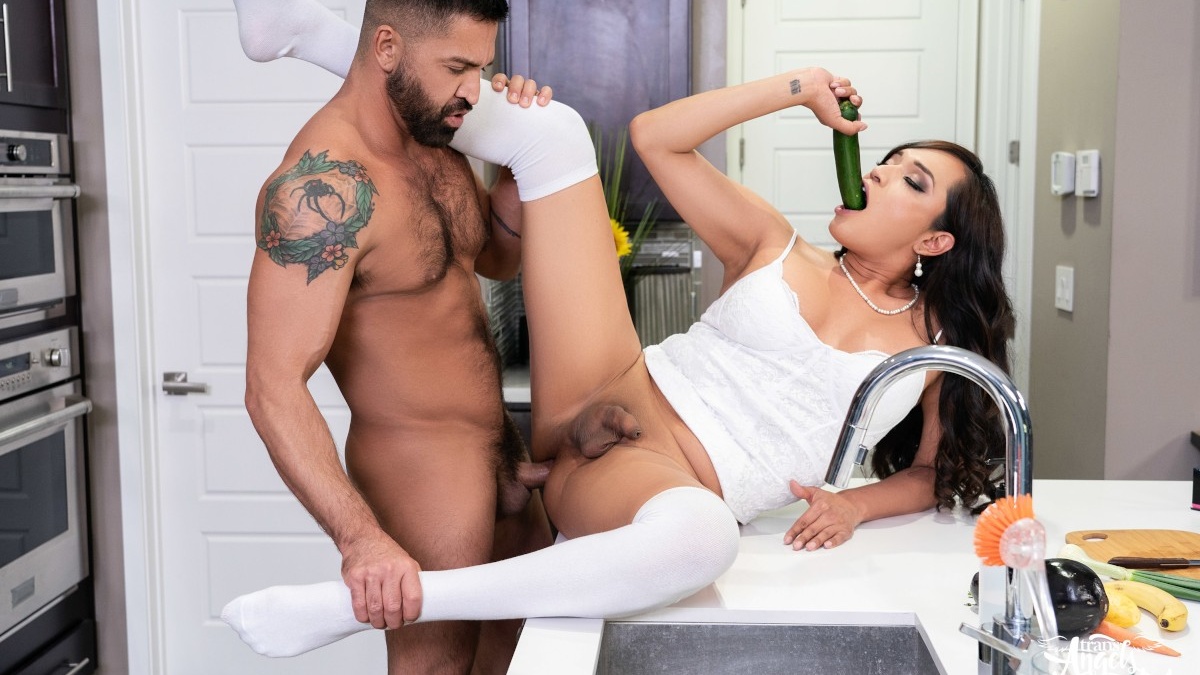 Coming home from a long trip to the supermarket, tranny wife Jessica Foxx is ready to prepare a meal full of love for her hunky man Dominic Pacifico. Wearing an adorable dotted pink dress, she takes off her shoes and leaves her cute thigh-highs on. Something feels unusual as the TS starts to unbag her groceries. She is so horny that every single vegetable she pulls out suddenly takes a phallic shape. Even if it nowhere resembles a penis. Unable to control her rather peculiar urges, Jessica finds herself subconsciously caressing and feeling each item before laying it down on the kitchen counter. Taking a minute to keep her lips in optimal cock-sucking shape, she finally gets to work preparing dinner. There is only one issue for the lustful tgirl though. She simply cannot get herself to mutilate the perfectly huge cucumber in front of her.
A meaty dinner for tranny wife Jessica Foxx
After much futile resistance, the wanton shemale surrenders to her depraved desires. She puts the knife down and begins to lick and tease the organic cock replacement as if it were a real guy's dong. Her vegan sex simulation is only just beginning though. As one after another the plant-based dicks receive to an oral stimulation worthy of a stud. From carrots to aubergine, tranny wife Jessica Fox makes sure to provide her body with all the nutrients it needs as she deepthroats every veggie in her bag. Enter her muscular partner, Dominic. Who is not as surprised as he is angry, almost as if this is not the first time he's caught his transsexual lover going down on produce. Not giving him a chance to react, Jessica pulls down his pants and replaces her groceries with his cock till he fills her mouth with cum.