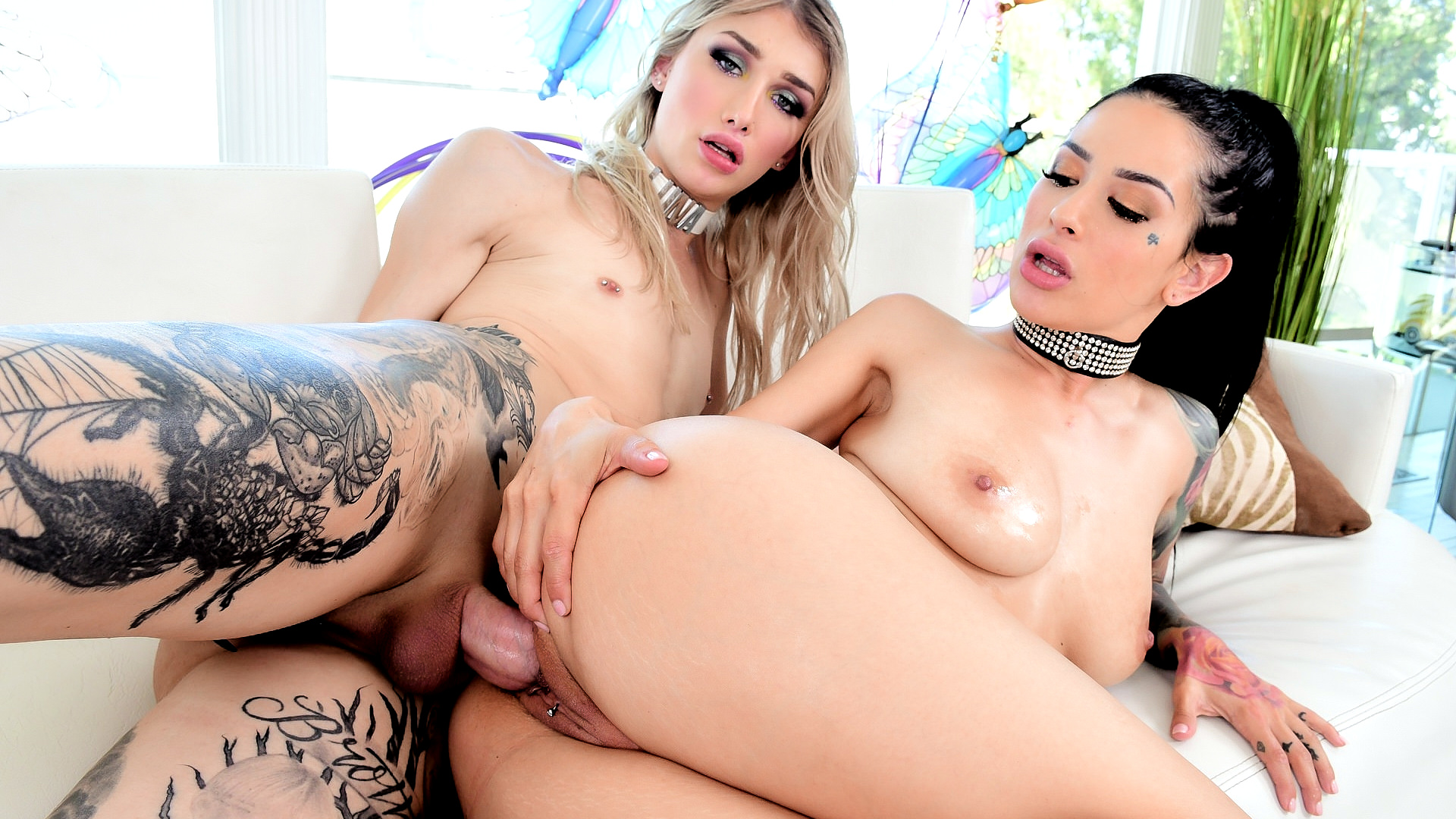 Beguiling Luna Love fucks Katrina Jade, a bewitching, jet-black haired, tattooed and pierced, real girl, with impassioned, lecherous zeal. Luna is a tall, svelte, blonde, tattooed, transsexual temptress with small, natural breasts, sultry eyes, and a luscious, humongous prick. The girls sensually fondle one another, while erotically gazing into the camera with their soul stealing, hypnotically, enthralling eyes. Simultaneously, they seductively converse with the award winning cameraman/director, Joey Silvera, while showcasing their beautiful, bodacious, all-natural bodies. Moreover, they both have the most jaw-dropping, sublime, firm, full, round asses imaginable, with Slut appropriately tattooed across Katrina's. Subsequently, Katrina worshipfully strokes Luna's magnificent, massive, meat stick, as if it were a sacred ivory, obelisk of lust. With sincere, heart-felt admiration, she tells Luna that she has a very, pretty cock. Then, Katrina ravenously savors sucking Luna's ginormous, dinosaur dick, with whorish, wolfish hunger, gusto, and adept, oral virtuosity.
Long and leggy Luna Love fucks Katrina Jade with impassioned, fiery fervor
Furthermore, Katrina, a connoisseur of cock, wantonly slaps her tongue with Luna's steely shaft, before deep-throating every stony inch. Following the fellatio, Luna eases her shimmering, well-lubed, humongous, horse cock into Katrina's heavenly ass in doggie, bareback. As a result, Katrina moans and howls, with uncaged, bestial passions, as Luna barbarously pounds her monster cock into her. Begging to be fucked harder, Katrina shamelessly thrusts herself back onto Luna's cock, while her full, natural breasts sway rhythmically. Next, Luna brutishly pile drives her donkey dick into Katrina's bald, bejeweled, pretty pussy in spoon, while she squeals ecstatically. Finally, Luna feverishly fucks her ass with a dildo, moaning rapturously, while Katrina gluttonously sucks her colossal cock. Accordingly, Luna's frenzied jacking off covers Kat's out stretched tongue with a copious coating of cum. Afterwards, Katrina blows cum bubbles, while savoring sucking up every last drop of cum with sluttish relish.