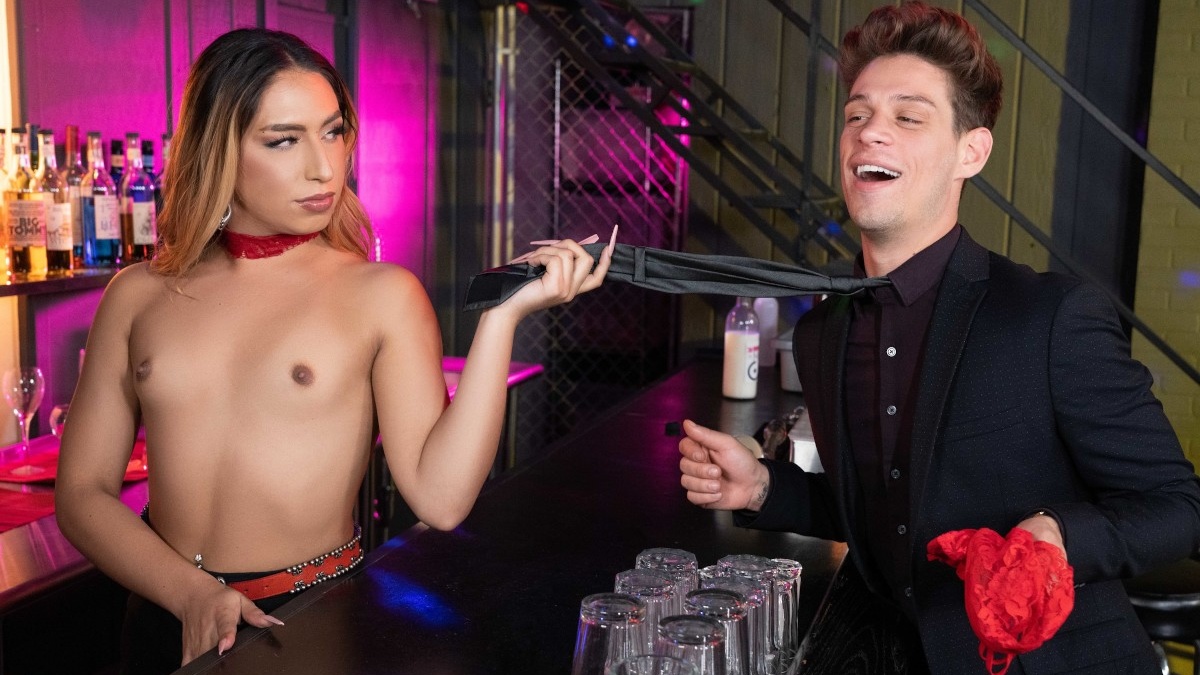 It's another boring day on the job for small tits TS Paradise. This is definitely not what she had in mind while she was training to be a barmaid. She thought the position was going to be some easy money for menial work, plus a free ticket to meet lots of cute boys with beer-reduced standards. Boys who can fuck her ass and satisfy her till she cums, and do so after closing time every single day. Well, it didn't take long for the illusion to shatter. Within a few days of starting her new career, it became crystal-clear for the sexy shemale that this job will be anything but fun. Instead of low-effort tasks that allow her to hunt for big cocks for most of the day, she got a list of time-consuming hectic responsibilities that keep her hands full throughout the entire night all the way till clock-out.
Generous patron gives small tits TS Paradise what she needs
A well-dressed Michael Del Ray walks into the bar hoping for some action after a long stressful day at work. He is not in the market for any sort of relationship that involves commitment. All the man is looking for is some cheeks to clap, no strings attached. This must be his lucky day, for as soon as he turns his head around, small tits TS Paradise makes her way down the staircase with her shecock swinging between her legs. She climbs on top of the counter and throws her panties at Michael who immediately starts sniffing them like a depraved pervert. The patron sitting next to them takes the hint and leaves soon after. With the entire pub to themselves, the two strangers trade oral sex before the tgirl spreads her legs wide for a bareback anal ploughing that makes both of them orgasm.