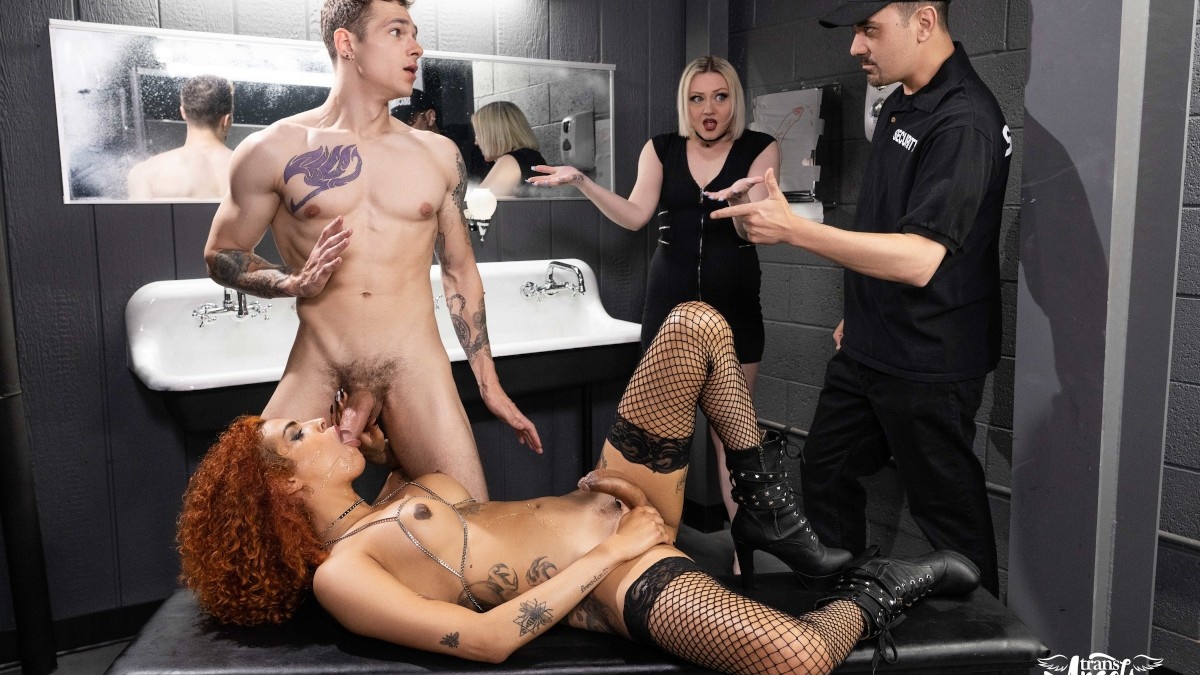 The last thing you would expect when entering a bathroom stall at a restaurant is that you would end up having public tranny sex with none other than Latina sensation Rubi Maxim. However, that is exactly the scenario pervert Jayden Marcos will find himself in soon enough. He sits quietly as the TS bombshell walks into the bathroom with a mate, and being the horny creep he is, climbs up to try and sneak a lewd peak while stroking his cock. In a turn of events that would seem unfortunate at first, but later turn out to be the best thing to ever happen throughout Jayden's entire voyeur career, Rubi notices him in the mirror and looks behind her, catching him in the act. She asks her GF to go back to the table, as she will be following her shortly after dealing with a little problem.
Rubi Maxim has public tranny sex with the voyeur
Watching the angry-looking shemale moving straight towards his stall, Jayden cowers and sits back down while holding his precious shaft in hand. Not holding back, Rubi kicks the door in and quite literally catches the creep with his pants down, stroking his dick. She grabs him by the collar, gets on her knees and starts hungrily devouring his meat stick. The gentleman knows he cannot simply leave the trans lady's good intentions unrewarded, and thus kneels down himself and fellates her lollipop. Soon enough, the two depraved strangers find themselves having full-on public tranny sex. Even with Jayden's history, neither of them ever imagined that they would someday have the courage to do something like this given all the risks involved. After taking the cock till she cums, Rubi Maxim receives a hot load in her mouth. The fun they had was definitely worth having security called on them.