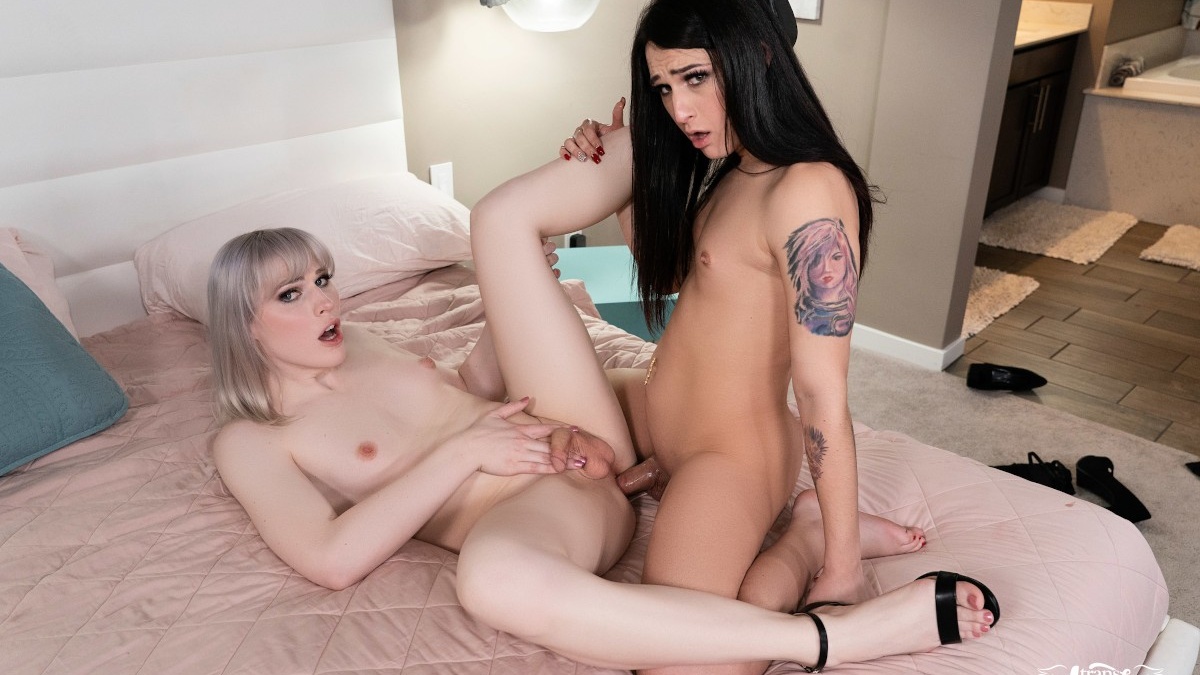 Lying on her bed while reading some dumb magazine, hot shemale Khloe Kay is frustrated by another unwanted visit from her horny girlfriend, tbabe Lianna Lawson. You won't find any bad blood here, however, Lianna just seems incapable of keeping her hands off of her partner, even when she is spending some quality time by herself, time that any successful relationship most certainly needs. But Lianna can't really help herself. She wants to take Khloe's shecock in her ass around the clock. And it is hard to blame her when her GF is such an irresistible trans babe. Her lover on the other hand, believes they would both benefit from some much-needed restraint when it comes to their sexual urges. She worries that focusing too much on the physical aspect will eventually and without a doubt make their relationship far too dependent on great sex to maintain.
Hot shemale Khloe Kay makes love to pretty TS Lianna Lawson
Knowing that they have to reach a middle ground, the attractive brunette suggests that instead of pounding her GF's ass tonight, she can read her a lewd bedtime story, one about two stunning tgirls, who fall in love at first sight, and go home together on the night they meet. Intrigued, Lianna agrees to her girl's proposition. And so, hot shemale Khloe Kay begins to tell the story of said trans lovers. And almost instantly, her SO's imagination starts to paint a picture in her head, as she fantasises about the couple in the story being none other than she and Khloe. Thus, the more pages the TS storyteller flips, the harder her listener's cock becomes. And as the torrid tale comes to an end, with both main characters releasing their loads next to each other, Lianna has already fallen into a deep and comfortable slumber.