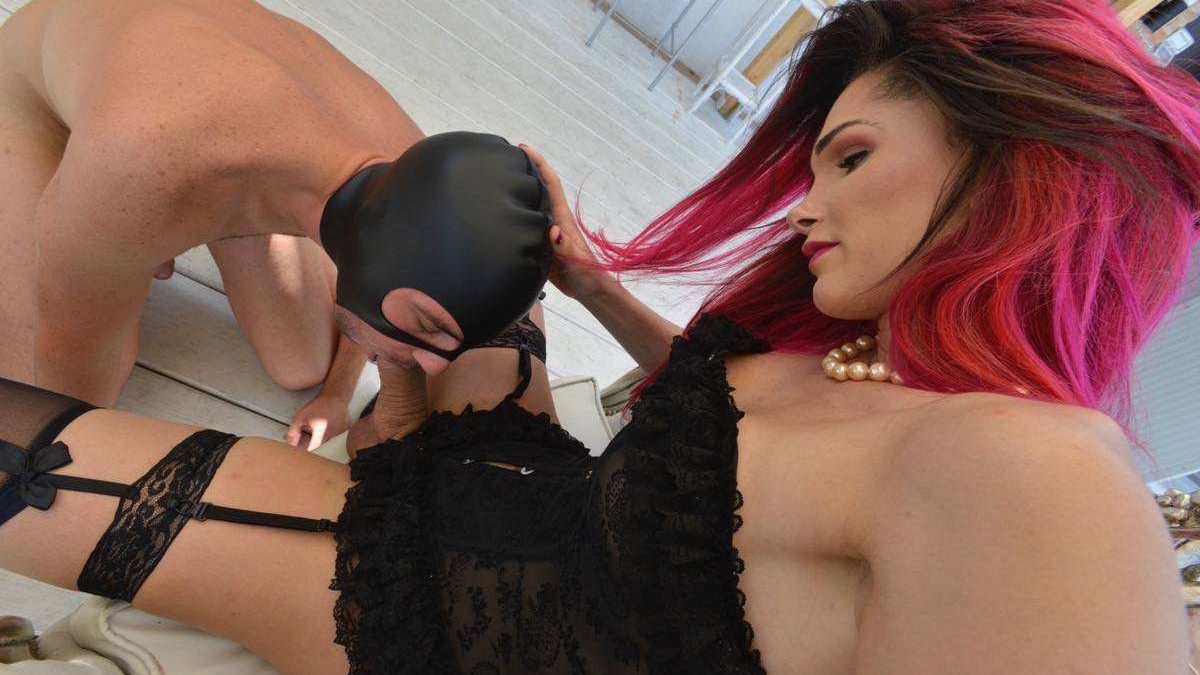 Breathtaking Italian shemale Valentina Melo has just been crowned the winner of the Miss Trans Italy beauty pageant. Even if, you are not bilingual, you can revel in her awe-inspiring beauty, as she gives her acceptance speech. Undoubtedly, Valentina is one of the most glamorous, exquisite examples of sublime transsexual beauty on the planet. Consequently, she could turn on a rock at fifty paces. If she does not make your heart race, you had better see a doctor. When she arrives home, there is a very lucky, handsome, beefy stud waiting for her. After changing into dominatrix attire, she orders her now hooded slave to lick her shoes, while she whips him provocatively. Grateful to be her bitch, he enthusiastically licks her high heels, as her riding crop spurs him on. Subsequently, she rewards his devoted servitude, by allowing him to gluttonously, savor sucking her huge cock.
Dominant Italian shemale Valentina Melo uses her lucky slave
Her slave is in 7th heaven, as he greedily sucks the gorgeous, colossal cock of Italian shemale Valentina Melo. Miraculously, he succeeds in shoving every stony inch of her horse cock, balls deep down his throat. Then, she diligently drills her donkey dick into him in spoon, as he groans in a cock-crazed revelry. Adding to his pleasure, she firmly strokes his big dick, while she continues her anal assault, with her beefy bazooka. Next, she is brutishly plows her titanic tool into him in missionary, sending him into a dick-drunk delirium. Moreover, she feverishly jerks him off, while pile-driving her cock into him, which sends his cum spewing everywhere. Lastly, she kneels over his outstretched tongue, frantically jerking off her monster cock. Her stupendous orgasm unleashes a geyser of thick goo that rains down cum into his mouth, and all over his face.