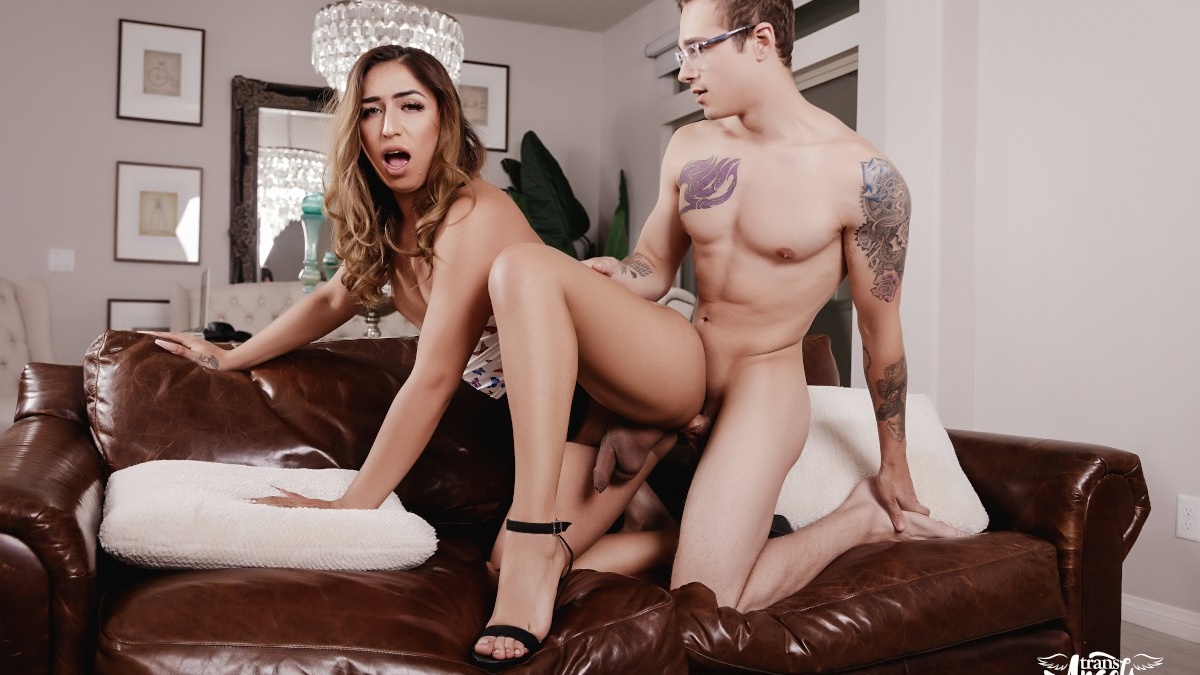 Her laptop broke down mid-stream and now small tits tranny Paradise is frantically trying to resolve the situation. She googles the nearest computer repairs company in her area and quickly calls them up, asking for an urgent visit to fix her machine before her viewers start to leave. Unexpectedly, the support staff is quite responsive to her plea, promising the trans girl that someone will be there to aid her in just a few minutes. And sure enough, a young and handsome Jayden Marcos is knocking on her door before she even has the chance to hang up the phone. Not questioning how the gent managed to find her location, leave the office (which is quite the distance away from her suburban home), and arrive at her place within less than 60 seconds, Paradise simply decides to thank her lucky stars and accept the help.
Jayden Marcos deceives his way into fucking small tits tranny Paradise
It takes the superhuman IT pro mere minutes to resolve the shemale's PC trouble. But as soon as her screen turns back on, he is greeted by a seemingly-endless slideshow of lewd pictures that small tits tranny Paradise has taken of herself. Unable to control his urges, Jayden pulls down his pants and whips out his meat stick before beginning to masturbate to his client's luscious trans body. Paradise catches him in the act, but somehow finds herself aroused by the discovery rather than upset. Instinctively reaching down for her girldicks, she starts to pleasure herself in rhythm with the stranger in her house. Confronting Jayden, the flat-chested TS reassures him that she is not angry, instead she wants him to use that fat cock to ream her asshole nice and wide. Naturally, the dashing young man obliges her request without a second of hesitation.