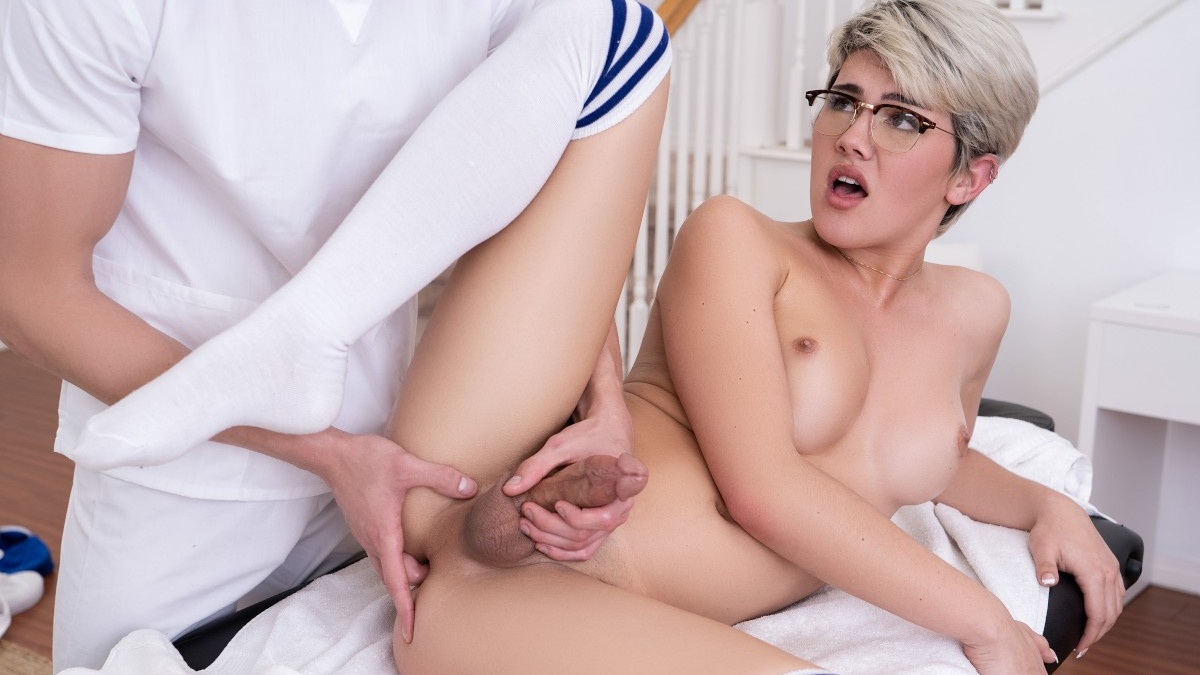 Given the honour of rubbing a goddess's perfect body, Johnny B is determined to deliver TS Daisy Taylor massage perfection. Lying on her back, fully nude on the table, with her adorable white short hair, the tbabe looks almost too good to be true. But if this amateur masseur is to satisfy her needs, then he simply has no time to admire her beauty from afar. And thus Johnny brings out the oil and begins carefully spreading it all over Daisy's delicate skin. He makes sure to cover every inch of her irresistible body, savouring the fineness as he passionately runs his hand from one side to the other, all the way from head to toes. The young trans beauty knew this would feel good, but she never imagined that the inexperienced Johnny could possibly deliver her this much pleasure using nothing but his bare hands.
Spraying her face with natural cream after a TS Daisy Taylor massage
The sensation is simply too electrifyingly good for Daisy not to ask for more. And so she flips up and lies on her back, presenting the enchanted masseur with her mouthwatering erect shecock in all its glory. It does not take a genius to predict Johnny's next move. He quickly reaches for the lollipop with his hand, turning it slick and smooth as he strokes it with his oiled-up hand. This TS Daisy Taylor massage has finally reached the 'happy ending' phase. And being the well-mannered transsexual girl she is, Daisy refuses to receive gratification without giving it back. So she drops Johnny's pants down and starts fellating him as he gives her a handjob. Now that they are both properly lubed up, it is time for this tranny stunner to get her tight ass pounded hard. And Johnny makes sure to spray her pretty face at the climax.