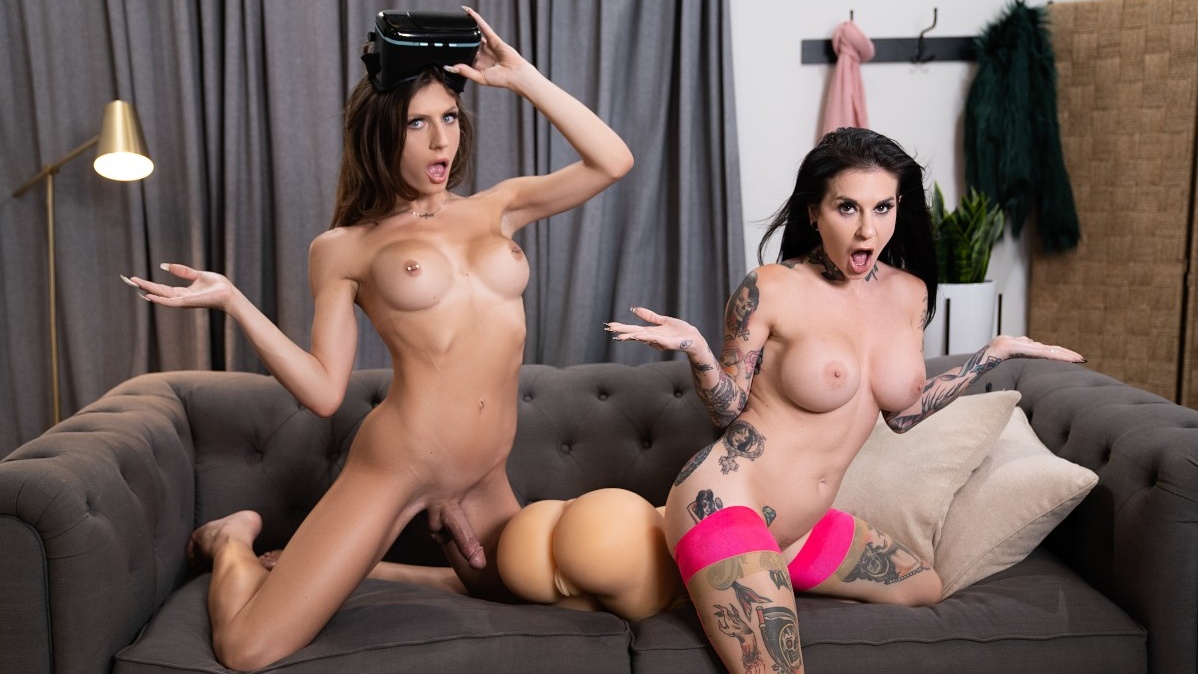 Drop-dead gorgeous, trans babe Jade Venus is a tall, svelte, toned, tanned, brunette, transsexual siren with a big dick. Jade is totally passable, looking like an exquisite, high-fashion, runway model. Joanna Angel's a hot, Goth MILF on the verge of cumming, when her vibrator's batteries die, leaving her frustrated. While looking for batteries, she see her stunning, trans-roommate masturbating, with Virtual Reality goggles and an artificial pussy sleeve. Horny Joanna, jealously watches Jade stroke her well-oiled, prick, moaning elatedly, while she talks to her virtual sex partner. Joanna becomes so aroused watching Jade ferociously stroke her spectacular cock, that she decides to masturbate with her. Climbing onto the sofa, Joanna frantically rubs her clit, drenching Jade with a fountain of pussy juice, when she cums. As a result, Jade unleashes her own volcanic orgasm, inspired by the realism of her VR session.
Stunning trans babe Jade Venus prefers fucking real pussy more than fake pussy
Insatiable Joanna, voraciously sucks a dildo stuck onto a door, while using the goggles herself as she jacks off. After catching her, Trans Babe Jade Venus pretends to take a shower, while sneaking in to replace the dildo with her own dick. Consequently, Joanna, who could suck the chrome off a bumper, ravenously sucks Jade's divine dick, thinking it's her VR dildo. Next, the scene jumps to Jade masturbating, while wearing the goggles again, getting ready to fuck her VR fantasy. Thus, Joanna moves onto the couch, so that Jade will fuck her greedy cunt, instead of the artificial pussy. Upon hearing Joanna impassioned outburst, as Jade begins fucking her, Jade removes the goggles. Therefore, with Joanna desperately needing to be fucked, Jade decides to fervently fuck her. After some frenzied fucking, Jade unleashes a geyser of goo into her mouth, and allover her face and tits.