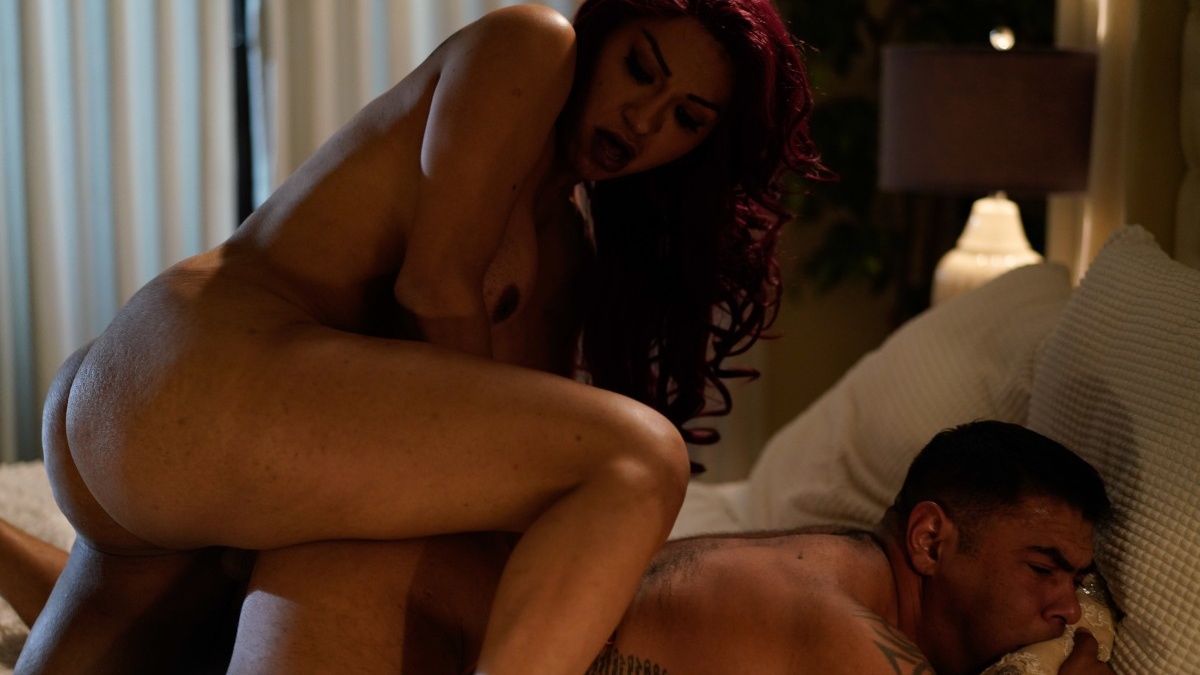 Arriving home late once more, Draven Navarro did not expect to see his tranny wife Jessy Dubai dressed like a glamorous babe. Wearing a glittery classy dress and all dolled-up, she has never looked more sexy. To mess with her a little, Draven asks her where his wife is. Instead of getting upset or angry, Jessy decides to play along, which leads to the two of them engaging in some hot role play, pretending they are complete strangers meeting for the first time. The shemale MILF asks the man what his wife looks like, and he responds by gushing over her looks, in fact, he thinks she looks a lot like her. Jessy is flattered, but not content. She decides that since her man is feeling playful, she might as well tease him a little bit in return, perhaps it will make him appreciate her as much as she deserves.
Bottom husband gets pounded by tranny wife Jessy Dubai
Jessy, remaining in character as the stranger her man just met for the first time, opens up to him about her frustrations with their marriage. She describes how horny she gets during those lonely night when he isn't home. And how she asks the universe for a 'big, strong man' before she goes to sleep, only to wake up alone with no one on the other side of the bed. As she continues to lament her loneliness in an oddly lustful tone of voice, tranny wife Jessy Dubai reaches for her husband's crotch and starts fondling his package while whispering in his ear. She asks whether his woman has ever touched him that way, and he replies saying she might have been too shy. Long story short, Draven ends up getting his ass railed until he cums by his curvy TS housewife.