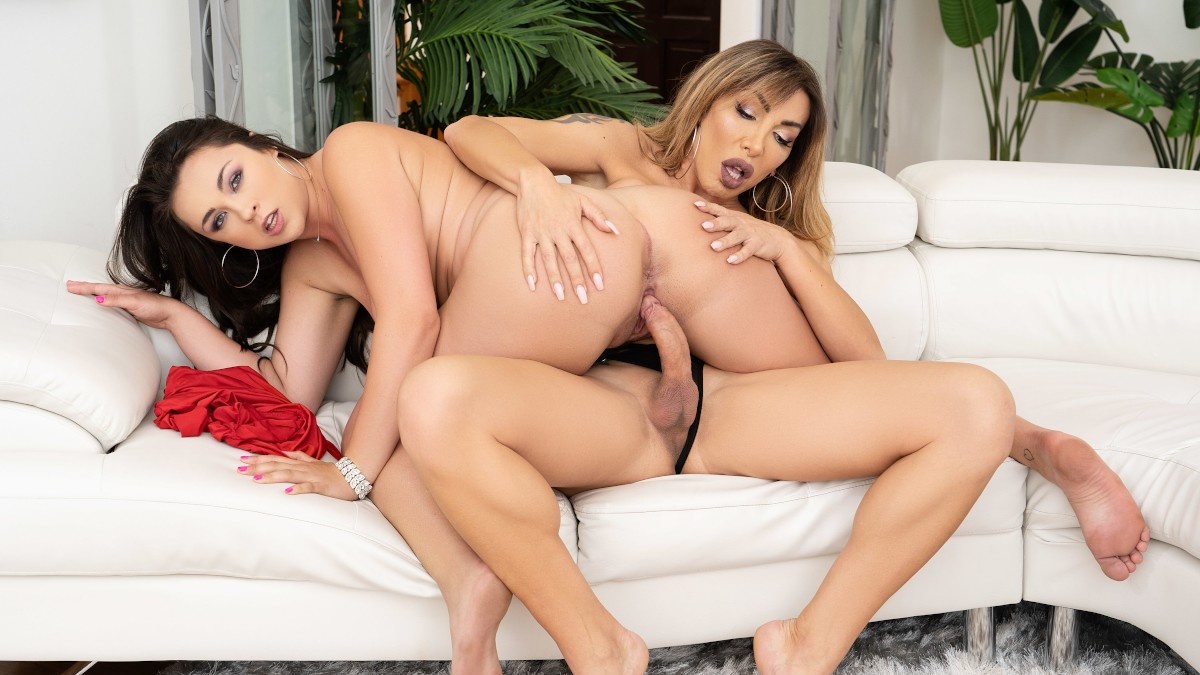 Being flatmates with cute teen Nicole Sage can sometimes get very frustrating for tranny MILF Eva Paradis. It has absolutely nothing to do with poor behaviour or bad manners. In fact it is quite the opposite. As Eva is continuously impressed by how polite and sweet the young girl is. Instead, it has to do with Nicole's compliant attitude towards her overly nosy and controlling GF, who constantly feels the need to interject herself into every facet of her lover's life, be it romantic or otherwise. The kind TS simply wishes that her roomie would stand up for herself more often. Especially when it comes to the more egregious violations of privacy that her partner commits on an almost-daily basis. However, despite her best efforts, Nicole is still as docile and yielding as ever. And it greatly saddens Eva to watch someone take advantage of her tenderness.
Fucking tranny MILF Eva Paradis to make her girlfriend jealous
The two roommates were planning to go out clubbing tonight, but as is customary at this point, Nicole's GF coincidentally happened to call her right as they were heading out. Her snoopy behaviour has reached a level where simply texting will not sate her intrusive compulsions. Instead, she now video calls the teen out of nowhere anytime she has a hunch that she might be fooling around. Tranny MILF Eva Paradis finally decides that she will not let this slide any longer. Despite Nicole's attempt to act as if nothing is wrong, and reassure her BFF that she is still excited to go out clubbing, the Italian shemale goddess refuses to let it go. She wants to teach her paranoid girlfriend a lesson at any cost. Her plan is simple, instead of trying to dispel the bitch's doubts, she and Nicole should give her something to really be jealous about.