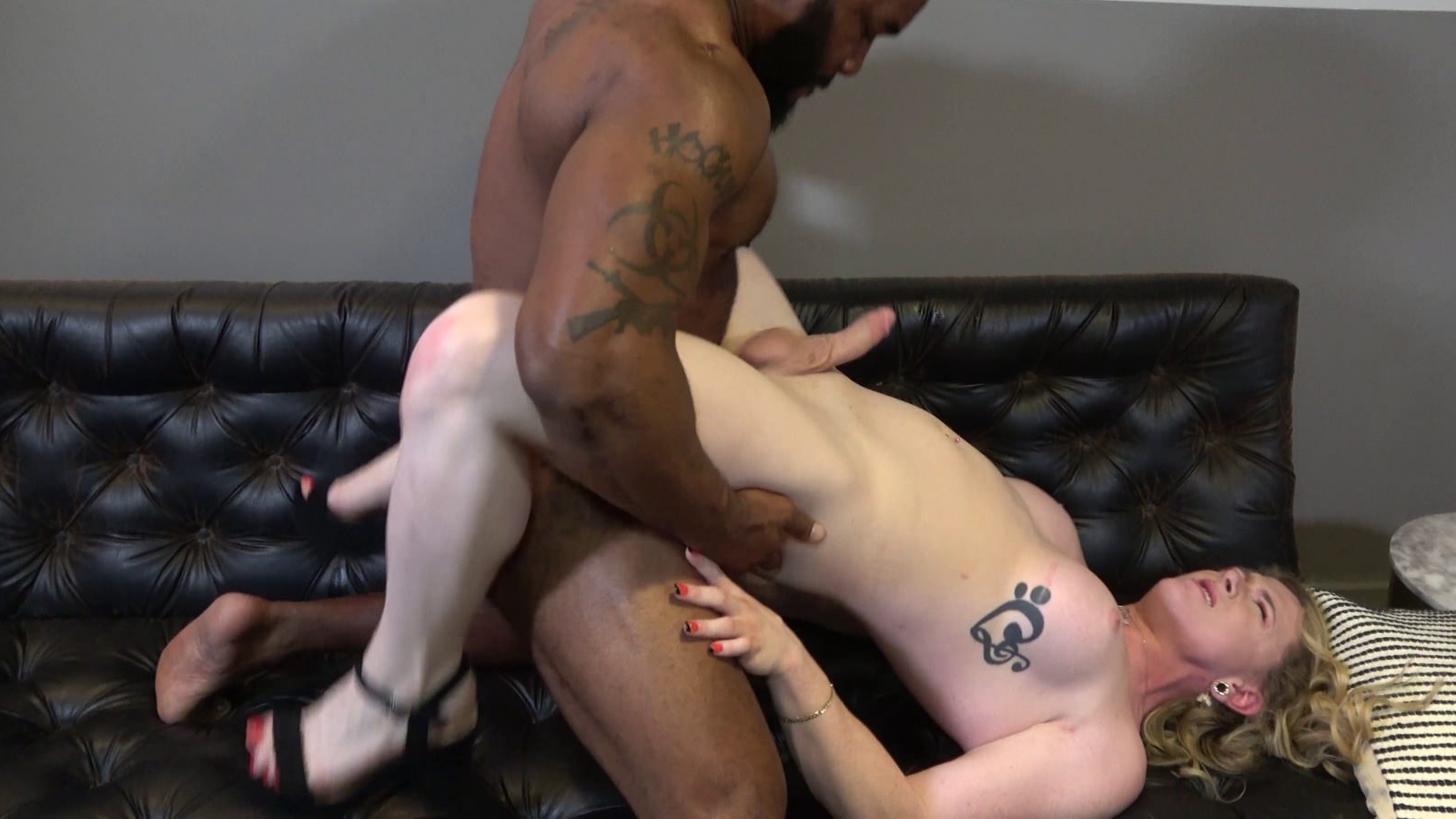 Tranny Jordyn Starstruck interracial scene is a steaming-hot example of racial integration at its best. Jordyn is a luscious, tall, blonde, creamy-white skinned, big-boobed, transsexual babe, who looks sexy wearing glasses. After a long day at work, Jordyn's man Starstruck, a muscular Nubian stud, is lounging on the couch, watching TV. When Jordyn saunters out, wearing a red, silk robe, covering her sexy, red bra and thong, things really heat up. And so, she welcomes her man home sensually kissing and caressing him to show how much she missed him. As a result, he expresses his approval, exclaiming she is far more entertaining than the show he was watching. Therefore, she sensually savors sucking his inky-black, prodigious prick, with sluttish, epicurean relish, glee, and admirable oral aptitude. To clarify, she luxuriates in sucking his big, black, savory sausage, like a devout gourmet, connoisseur of cock.
Smoking hot tranny Jordyn Starstruck interracial scene deeply integrates the racial divide
Moreover, this snowy-white skinned, transsexual slut loves it when he firmly grabs her head to assertively face fucks her. Subsequently, with her passions set ablaze, the tranny Jordyn Starstruck interracial extravaganza heats up, as she ravenously sucks his big, black mambo, with whorish hunger. Next, he gluttonously sucks her sweet tasting, low-hanging piece of fruit with impassioned zeal, as she moans euphorically. When Starstruck slides his ebony tower of power into her ass in doggie, bareback, it takes her breath away. Thus, Jordyn moans, and yelps, with uncaged, animalistic passions, as he assertively drives his big black tool into her. Jordyn wantonly thrusts her full, round ass back onto him, with her face contorted in the agony of ecstasy. To conclude, they both frantically jack off, as he straddles her. As a result, his cum rains down onto her mouth and tits, which she savors licking up with sluttish relish.