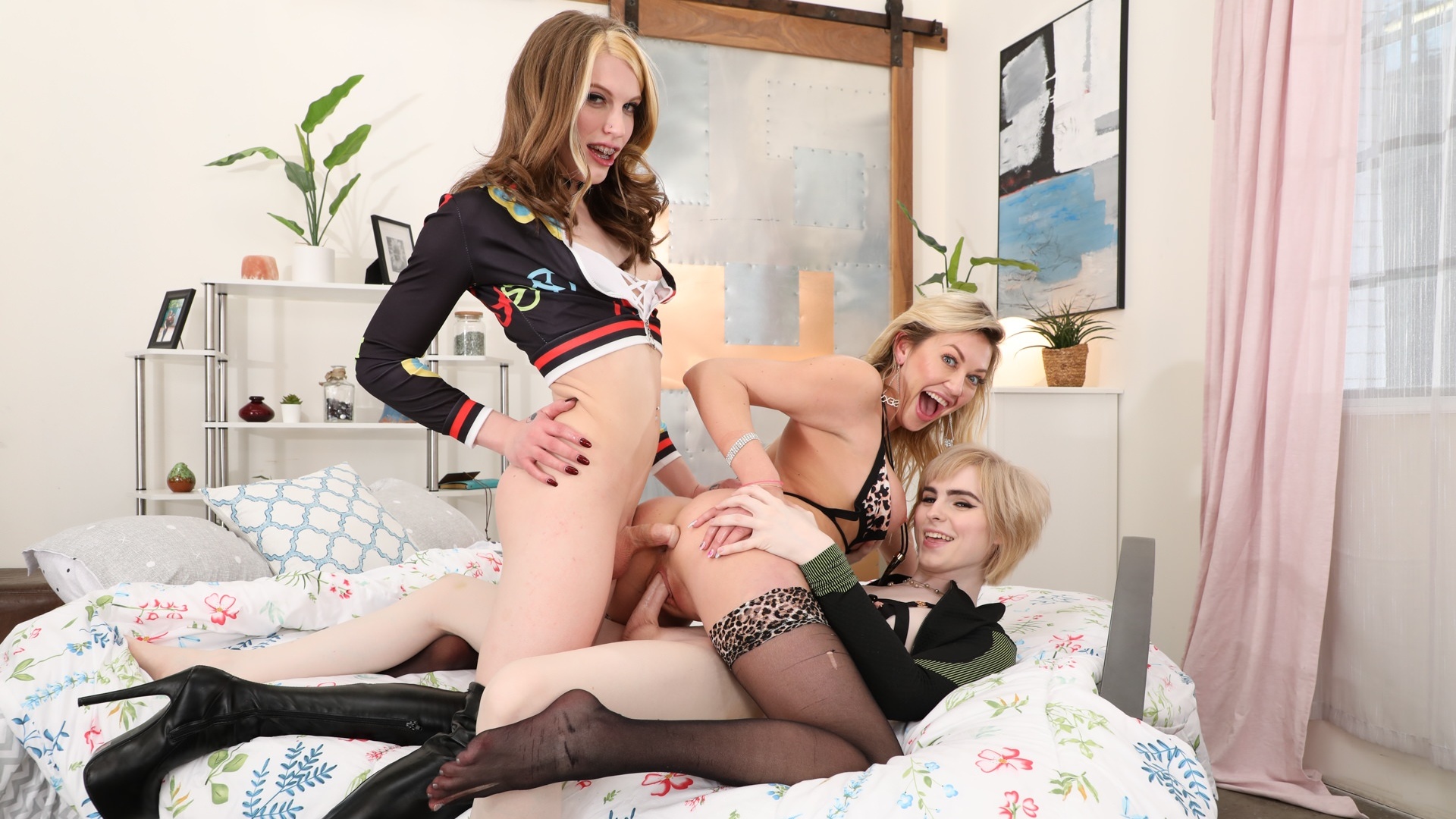 Acting like a complete slut out on the streets, MILF Adira Allure soon attracts the attention of teen traps Ella Hollywood and Izzy Wilde. It was hard for them, or just about anyone, not to notice the hot blonde shaking her ass in an extra-short skirt and strutting in sexy high heels. So they stop their car and ask her what she's doing out on the streets all by herself, when she's clearly meant to be used as fuckmeat around the clock. Adira simply replies that she's looking for some fun, and maybe these two lovely trans ladies can provide her with what she needs. Knowing that they're in for a good time, Ella invites the MILF to hop inside the car and join them for a party at their place, an offer she immediately accepts. Because as she puts it, Adira Allure loves to party.
Threesome with teen traps Ella Hollywood and Izzy Wilde
After complimenting them on their sense of style, the blonde cougar asks teen traps Ella Hollywood and Izzy Wilde whether picking up strangers on the street and bringing them back home is something they do often. Their answer is that she looked like she could be fun. More than eager to prove her hosts' assumptions, Adira instantly gets on her knees and grabs the two shemales' bulges. They then pull their pants down to reveal two mouthwatering shecocks that the MILF quickly starts to stroke. Now that she has two wonderful lollipops to suck on, she begins to rotating her attention between her partners, deepthroating one tgirl's shaft while her hand takes care of the other. Izzy and Ella then take turns railing their cock-hungry guest's pussy while simultaneously fucking her face for a perfect spit roast. Leaving Adira with her face drenched in hot tranny cum.