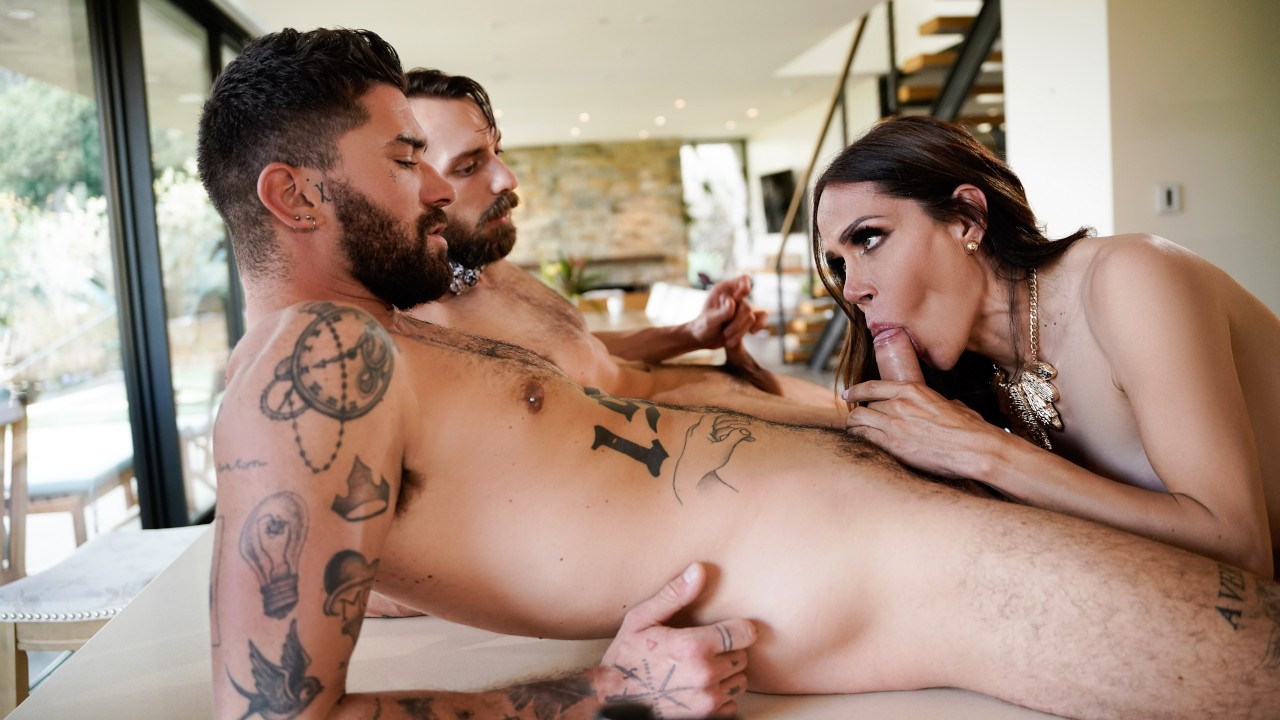 After inviting two studs over to her house, all the ingredients needed to prepare a mouthwatering Sofia Sanders shemale sandwich are ready. The tranny gets straight to business, deepthroating the first bloke to arrive to her three-way party, Chris Damned, while waiting on the other. She then stands up and lifts her short dress, allowing her partner to shove his raw erect dick balls-deep inside her asshole. He then pummels her booty nice and hard as he thrusts his rod all the way up her rectum while she strokes her cock. The insatiable TS then welcomes her second guest, Johnny B. But this time she won't be the one receiving. She grabs the man's head and steers his mouth towards her rock-hard staff, which he obediently accepts with open lips. Sofia then wraps a handkerchief around Johnny's neck and pounds his bum hard like the submissive slut he is.
Becoming the bread in a Sofia Sanders shemale sandwich
Obliviously walking into the kitchen with a coffee mug in his hand is Chris. Turning to the left, he is so shocked by the sight of the tgirl mercilessly railing Johnny, that he spits out everything in his mouth. He takes a second to collect himself and then decides the best thing to do would be to join in. And so he takes off his shirts as he slowly approaches the fornicating pair. He grabs the transsexual's big tits before dropping his pants and inserting his thing into between her juicy butt cheeks. A dreamlike Sofia Sanders shemale sandwich is thus formed. With the trans woman making up the meat, and her two lovers taking the role of the bread. The feeling is so electrifyingly pleasurable, that the trio's moans completely swallow the entire house. And so they continue their depraved threesome until every single one of them orgasms.