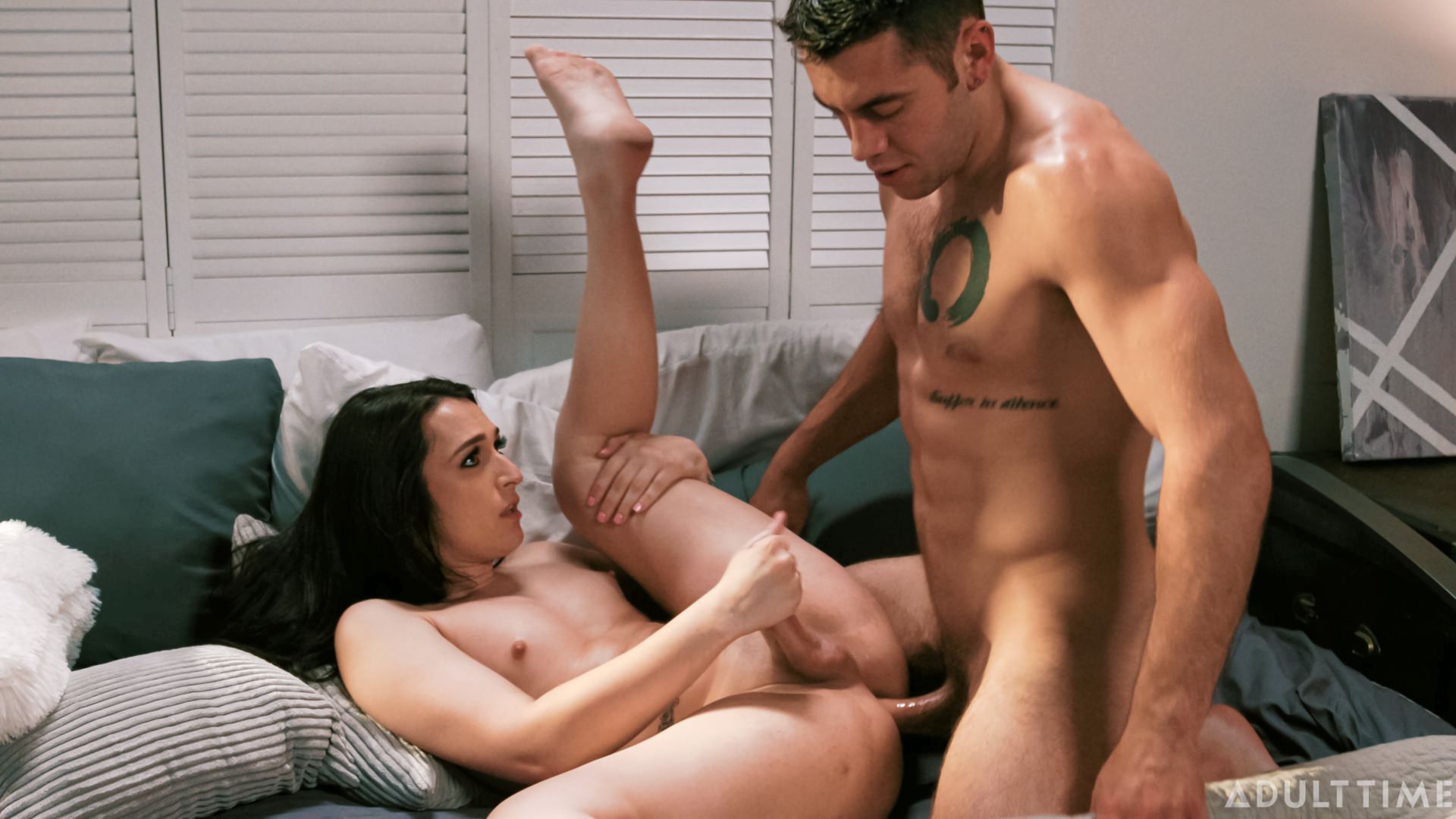 Snogging with her lover Dante Colle in a dimly-lit bedroom, small tits TS Khloe Kay has never been more aroused. Their lips passionately lock as their hands run all over each other's bodies. Dante then holds his GF's neck tight as he nibbles on it. The two continue to make out and the dashing young gent's hand makes its way down to Khloe's perfect firm butt, telling the stunning trans girl that he simply cannot hold back any longer. She gladly welcomes the gesture, as the desire inside of her has been begging for a boost in tempo ever since they laid hands on each other. The couple are soon bollock-naked and both of their cocks are stiffer than they have ever been. Khloe then reaches closer to her man for a kiss while stroking his shaft, before going down on him with her loving mouth.
An incredibly torrid ass fucking for small tits TS Khloe Kay
The sensational shemale girlfriend has her yummy ass up as her sweet lips turn Dante's rod into pure diamonds. And he gently grabs her raven-coloured hair while she bops her head to satisfy him. He also makes sure to guide her mouth back towards the staff anytime it slips out. But he feels somewhat selfish letting such a goddess serve him so wonderfully without reciprocating her efforts. And so, he and small tits TS Khloe Kay take the 69 position, allowing for a sizzling trade of oral pleasure. The flawless tbabe then gets on her knees and spreads her cheeks for her eager partner, and he accepts her invitation with a fervid anal insertion. Khloe then lies on her back and parts her delicious legs wide for Dante's meat stick, and he responds by wanking her shecock while drilling her asshole until she releases her warm load.