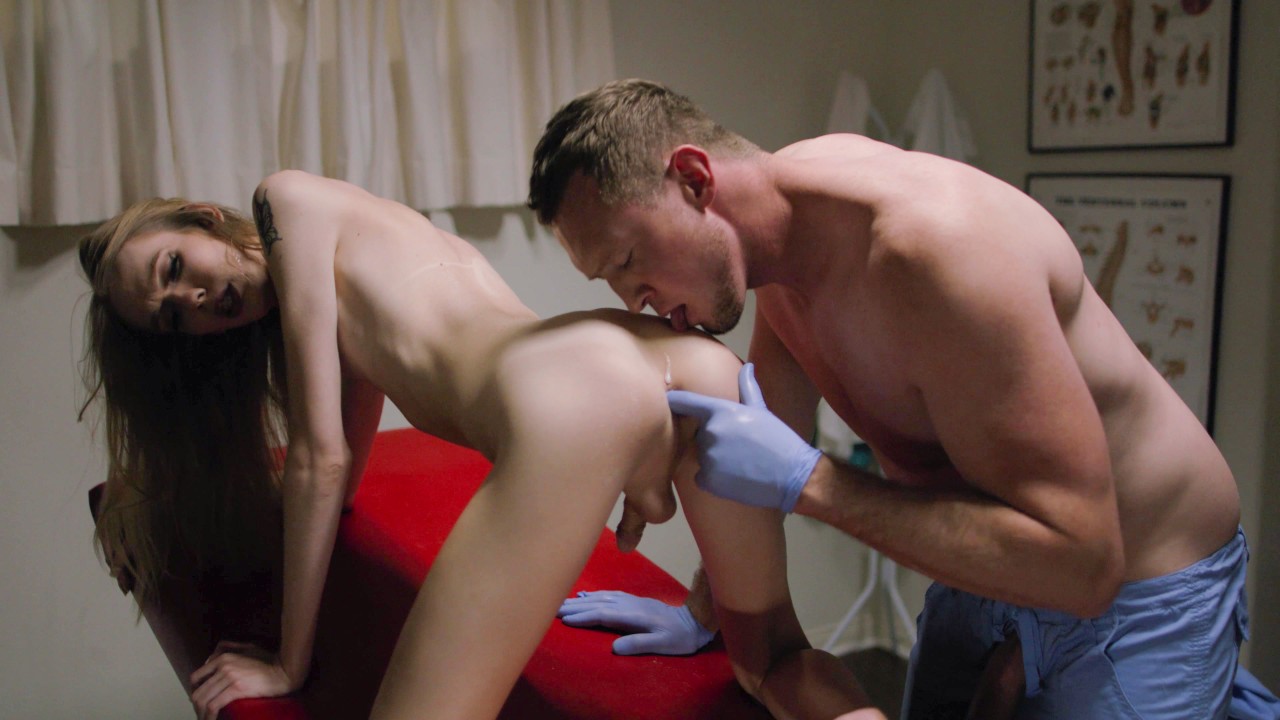 Eccentric physician Pierce Paris welcomes skinny shemale Crystal Thayer into the examination room. His face has an expression of worry that slightly unsettles the trans girl. It does not help matters when he proceeds to not only stand and watch his patient strip down to her her panties, but also lock the door once she's finished. Crystal inquires as to the reasoning behind Pierce's actions. And he reassures her that it is nothing out of the ordinary. Climbing on the examination table, the slender tranny covers her flat breasts as she awaits for the doctor to begin his inspection. After bringing his head close to Crystal's chest and seemingly listening in to her heartbeat, the medical professional pretends to contemplate his findings. He then mumbles what sounds like complete nonsense before telling the uneasy TS that her condition might actually be fatal if left untreated.
A peculiar method of treatment to help skinny shemale Crystal Thayer
The doctor's words shock skinny shemale Crystal Thayer to her core. She knew things didn't feel right, that is why eventually agreed when her best friend Melissa kept insisting that she must have her symptoms checked up, and offered to come with her if that's what it takes. However, never did it cross Crystal's mind that her illness could be that serious. Hit hard by the news, she takes a second to collect herself. The transsexual patient then asks Pierce in disbelief whether her problem has any treatment. His answer vaguely describes a monthly procedure that only he would be willing to do. It involves him doing something similar to sucking the poison out of a snake-bitten person's wound. Desperate for any ray of hope, Crystal consequently agrees to let the physician carry out his unconventional therapeutic technique. As one would expect, it involves a lot sucking, and bareback fucking.