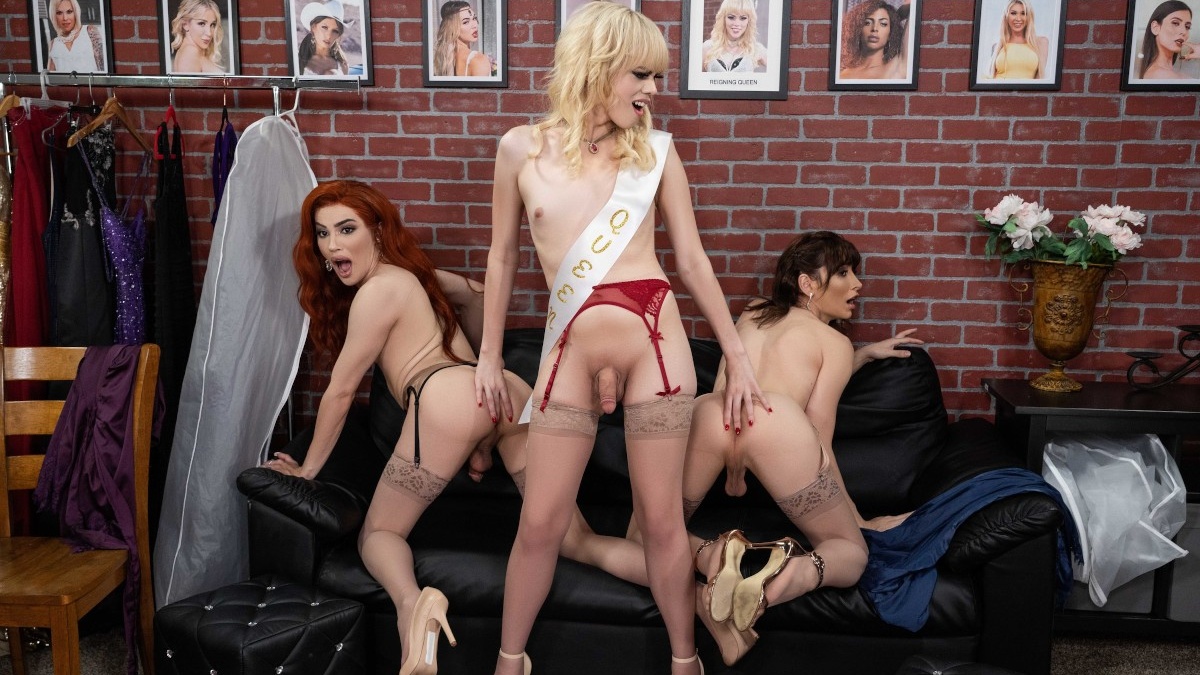 This small dressing room will soon witness three shemale pageant queens making an anal train out of each other's girldicks. TS Korra Del Rio is the first one to arrive. Sitting on the chair and staring intently at the mirror, she repeats lines of encouragement to herself out loud, hoping to shatter any doubt she might have deep inside her mind. Being the absolute bitch she is, tranny Ariel Demure announces her entrance by mocking Korra for her confidence-boosting routine. The trans girl is startled when she discovers she is not alone in the room, and quickly asks her uninvited guest for an explanation as to why she is there. After all, the door clearly states it is the 'Queen's Dressing Room', and that is obviously referring to Korra, or at least she thinks so. The response she receives is pretty much a 'No you', but longer and more annoying.
An anal sandwich with three shemale pageant queens
As if things weren't tense enough already, tgirl Kate Zoha unexpectedly shows out of nowhere and exclaims that the room is hers as well. Though she is wearing a shiny dress with a ribbon that says 'Queen' wrapped around her, so clearly she is the rightful monarch. Unlike the other two shemale pageant queens, Kate doesn't pay much mind to her visitors, and decides to focus on doing her makeup instead, as the contest is now fast approaching. So Korra and Ariel begin to get dressed, but there is one small issue. You see, both transsexuals have chosen the same dress to wear for the show. Naturally, a lewd catfight ensues. But just when things are about to get ugly, Kate bends over both of her rivals and begins to finger their assholes. A few minutes later, and all three are participating in one hot bareback anal sandwich.