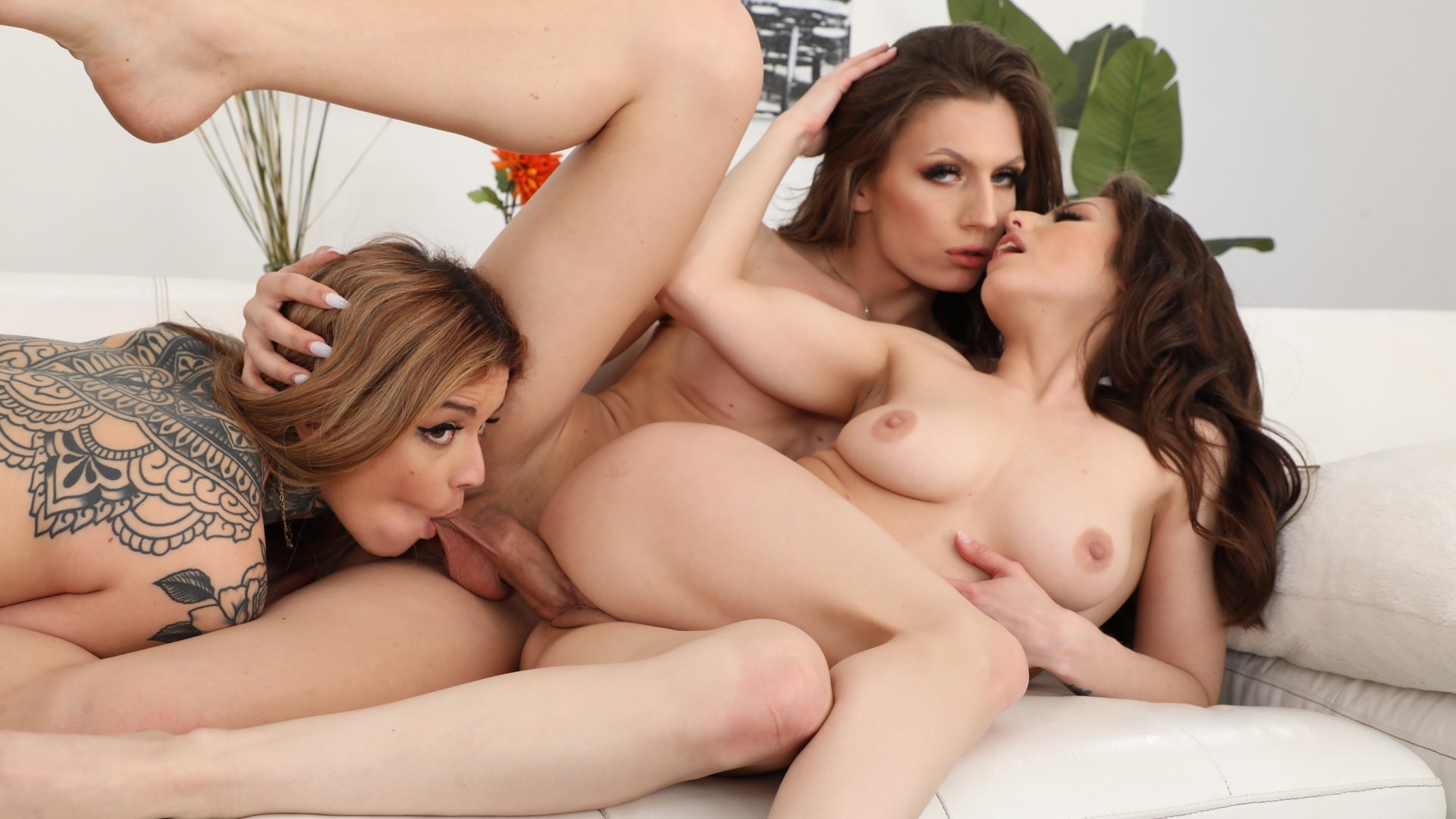 In this shemale Jade Venus threesome scene, Jade is checking out a room that Vanessa is renting out. Bewitching, Jade Venus is an enthralling, tall, sultry, statuesque, dominant, raven haired, transsexual seductress with a rock hard, horse cock. Vanessa Vega is a vivacious, petite, light-brown haired, tattooed, real girl, with tasty, tiny tits, and a big clit. After Vanessa finishes showing the house, Jade enthusiastically decide to take it. When Spencer gets home, the girls lovingly kiss, making it obvious they are lesbian lovers, which is fine with Jade. Spencer is an even more diminutive, gorgeous girl, with an infectious smile, natural, supple breasts, and a fuzzy, fur burger. Furthermore, they confess to doing lesbian masturbating webcams, and ask if Jade is ok with it, which she naturally is. Then, we cut to the girls naked on their sizzling webcam kissing, caressing, masturbating, and cumming, while talking to camera.
This steamy shemale Jade Venus threesome has a hung T-girl fabulously fucking two real girls
After the webcam, the girls encourage Jade, who was watching, to do her own, insisting she could make a fortune. Although, Jade admits it was hot, she is nervous, but the girls reassure her they would do it with her. Subsequently, they all sensually kiss and caress, as the girls try to put Jade at ease. And so, a shemale Jade Venus threesome begins. The TS spiritedly pounds her monster cock into Vanessa's torrid twat in doggie, bareback, with Spencer lying below her. Accordingly, Vanessa moans and howls, with unchained, bestial passions, while Spencer urges Jade to fuck her harder. Next, Jade alternately fucks Spencer's bearded clam, and Vanessa's pretty mouth, as Vanessa savors sucking pussy juice off of it. Finally, Jade fires a jet stream of jism into Vanessa's mouth, and all over Spencer's pussy and thigh. Moreover, with a big, cum covered smile, Vanessa coquettishly asks how Jade feels about doing 5 shows a week.