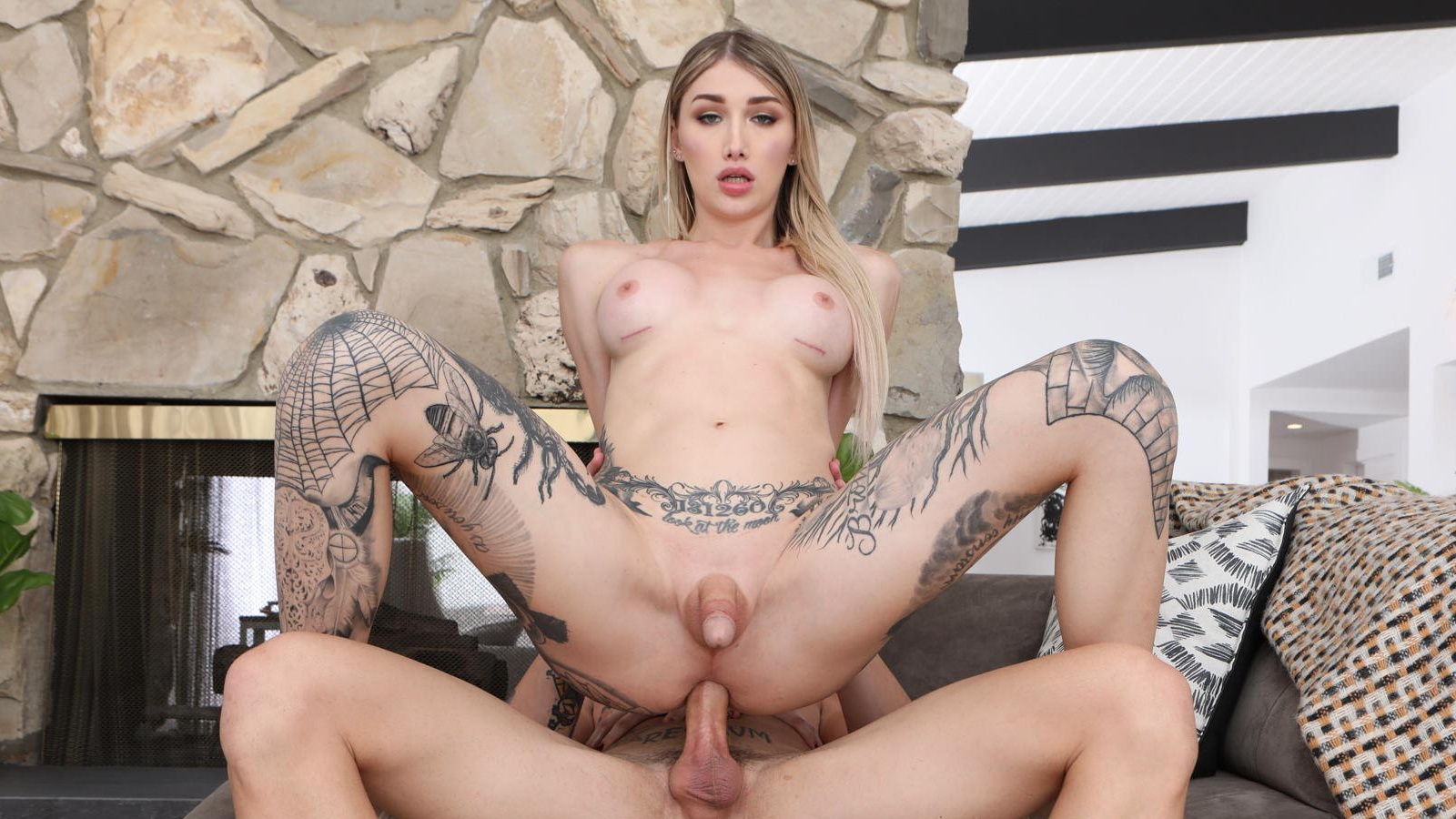 Luscious, lovely, shemale babysitter Luna Love, sumptuously, savors servicing a very happy, brawny, bearded, rugged looking baby daddy. Luna is a tall, tantalizing, tattooed, sultry, blonde, trans-temptress, with full, round breasts, and a toned, taut body. Fortunately, Luna is a firm believer in sucking and fucking her way to better paying job security. Consequently, she seductively saunters out, and straddles her handsome, muscular, employer, wickedly tempting him with her passionately kisses and caresses as he firmly fondles her ass. After their impassioned foreplay, he gluttonously sucks her large, scrumptious, savory sausage with gluttonous greed, while she groans euphorically. He hurriedly fumbles undressing, longing to consummate their red-hot, carnal congress, lost in a manic, trans-crazed frenzy. Then, Luna voraciously sucks his humongous, horse-cock, with whorish, wolfish hunger, verve, and adept oral-artistry. Furthermore, he reaches down to stroke her big, beautiful, mouth-watering, beefy tongue-depressor, while she is ravenously, sucking him.
A ferocious fucking for shemale babysitter Luna Love
Thus, with her passions set ablaze, Shemale Babysitter Luna Love has her ass railed into doggie. Accordingly, her sinewy stud brutishly pounds his monster cock into her bareback, as she moans and yelps, with unbridled passion. And so, Luna wantonly thrusts back onto him, asking if she is better than his wife. After he admits she is better, he goes up and over, to barbarically pile-drive his cock into her. And so, with her passions ablaze, Luna wildly slams her asshole onto his huge cock, in reverse cowgirl. Naturally, she bellows and bawls, like a banshee in heat, as he fiercely fires his meat missile into her ass. To conclude, he furiously fucks her in missionary, while she jerks off, covering her belly, with a geyser of goo. Finally, he unleashes a monsoon of cum all over her face, leaving her looking like a glazed doughnut.