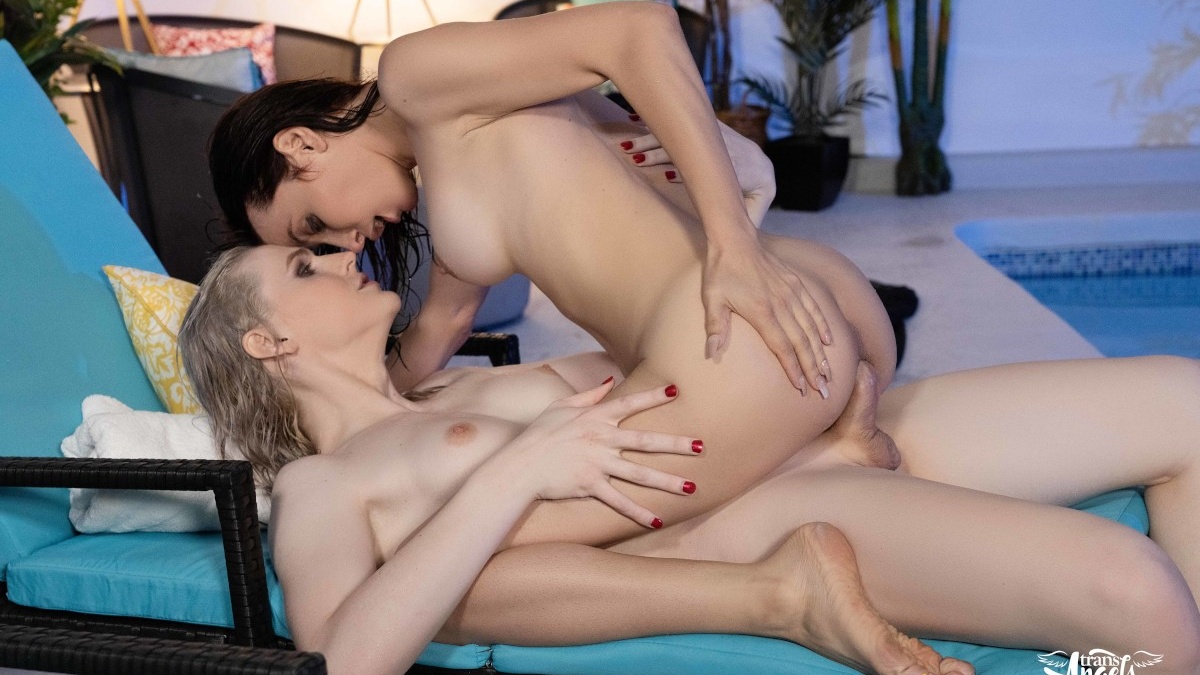 A torrid summer night and a dimly-lit indoor pool is the setting, Korra Del Rio fucks Lianna Lawson is the event. The blonde shemale is the first one in the water, and after dismantling her hot beach outfit, Korra soon follows. The sexual tension is so intense that one can feel it soaking the air that surrounds the two trans GFs. It starts out simple as the TS Latina presses her big tits against Lianna's small chest, driving her into a corner before taking the initiative. She then grabs her feet from underwater and pulls them up. Korra then begins to lustfully suck on her partner's toes and lick her wet soles, helping that purple nail polish shine bright. Meanwhile, beneath the surface, Lianna's second foot is fondling her lover's shecock. But that is enough teasing for both of them, it is time to finally whip out their goodies.
Lust is in the water as Korra Del Rio fucks Lianna Lawson
The small-tittied tgirl climbs out of the pool and parts her swimsuit to the side to reveal her soft delicious popsicle. Korra hungrily starts slurping on her meal like a depraved slut as she exposes her GF's tits. The two then exchange positions in their oral act, and now Lianna is the one shoving her tongue between her tranny mate's ass cheeks and giving her butthole a good rimming. She then flips Korra around and gives her an equally-impressive blowjob compared to the one she just delivered. The sexy tbabe then gets on all fours, allowing Lianna to drive that stiff tool into her anticipating asshole in doggystyle. The transsexual vixens then flipflop, and lascivious moans fill the room as Korra Del Rio fucks Lianna Lawson hard in return for her wonderful anal service. Their sizzling encounter comes to a close as both babes quiver in satisfying orgasms.