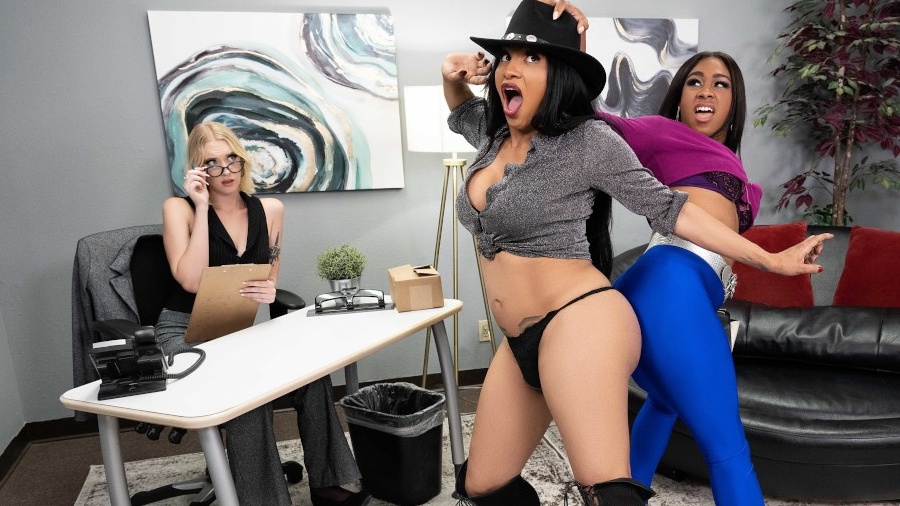 An usual casting call for two competitive sluts somehow devolves into a Jessy Dubai tranny threesome. The role they are auditioning for is called a 'VIP star', and that is about all the details they know. Ebony TS Selene Santos has arrived to the casting director's office first, and is anxiously waiting for her turn to show off her skills and get the part. Arriving soon after is Mexican shemale Jessy, who seems to have put a lot of effort into looking like a wild cowgirl. Things get into quite the rocky start when the Latina not-so-subtly calls Selene a clown. Not allowing herself to be slighted by some random attention-whore she just met, the dark-skinned tgirl responds by 'accidentally' spilling her coffee all over Jessy's leather skirt. It is safe to say that these two are not here to play nice. They want the role regardless of the cost.
Marilyn Johnson joins a Jessy Dubai tranny threesome
The curvy transsexual does not seem phased at all by getting steaming liquid all over the outfit she worked so hard on. In fact, she apparently welcomes the challenge, and does so by taking off her skirt entirely right in the middle of the waiting room. While all of this is happening, the hot and bossy casting director, Marilyn Johnson, finally enters the scene and invites the two slags into her office. Though they are unpleasantly surprised to hear that they will be cast together, the two trans slags begrudgingly accept the clearly-impatient babe's terms. After showing off their dance moves to Marilyn in what can only be described as a scene straight out of 'Mean Girls', the director hands them a special sex toy to play with. Minutes later and out of nowhere, the trio are all moaning in a wild Jessy Dubai tranny threesome.