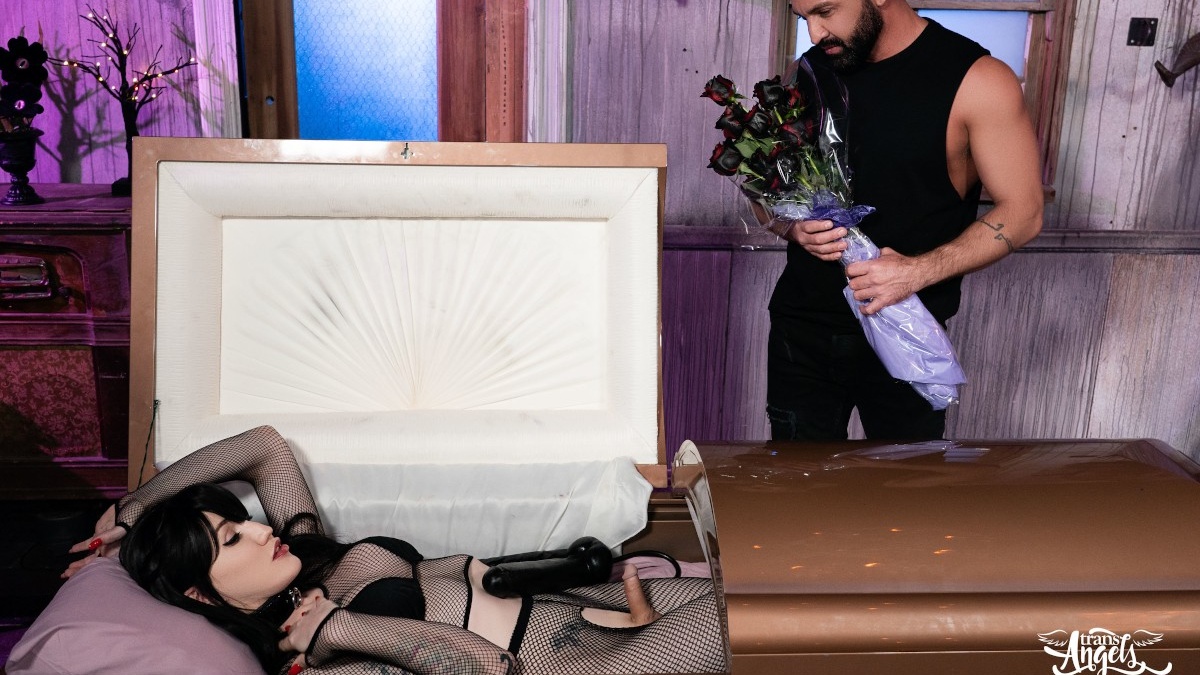 Lying solemnly in her casket of dildos with her erect cock pulsating, goth tranny Lena Moon awaits the arrival of a special guest. With an all-black outfit consisting of a fishnet bodysuit above her slutty bra, and a matching collar on her neck, the TS is clearly in the mood for love. Her bright-red nail polish shimmers as she pets her stiff pecker. Surrounded by darkness in her little cottage, and as the crescent moon slowly rises to decorate the midnight sky, Lena finds her urges nigh impossible to curb. And so she surrenders to desire, releasing her firm tits and continuing to tease herself as she hopes for a well-endowed saviour to finally show up on her doorstep. Her sinful pleas are answered by the forest, for it has guided a mournful and lustful Dominic Pacifico to her lair. And she can now use him as she pleases.
An anal pounding to resurrect goth tranny Lena Moon
In Dominic's hand is bouquet of darkish-red roses that he planned to place on the beauty's chest. But when he finds her wide awake and hard as fuck as she holds a massive black dildo in her hands, he knows she seeks something much more valuable than roses. His big fat dick, to be exact. Goth tranny Lena Moon then begins her seduction ritual, slowly controlling Dominic's mind as the hunk realises he's unable to resist her call. He thus starts touching her irresistible body while gradually making his towards her sweet lollipop. The trans alt girl moans like a slut as her guest offers her some very fine head. But those huge toys aren't there just for display, and after stretching her tight asshole nice and wide with them, Dominic gives Lena a raw anal drilling worth rising from the dead for.