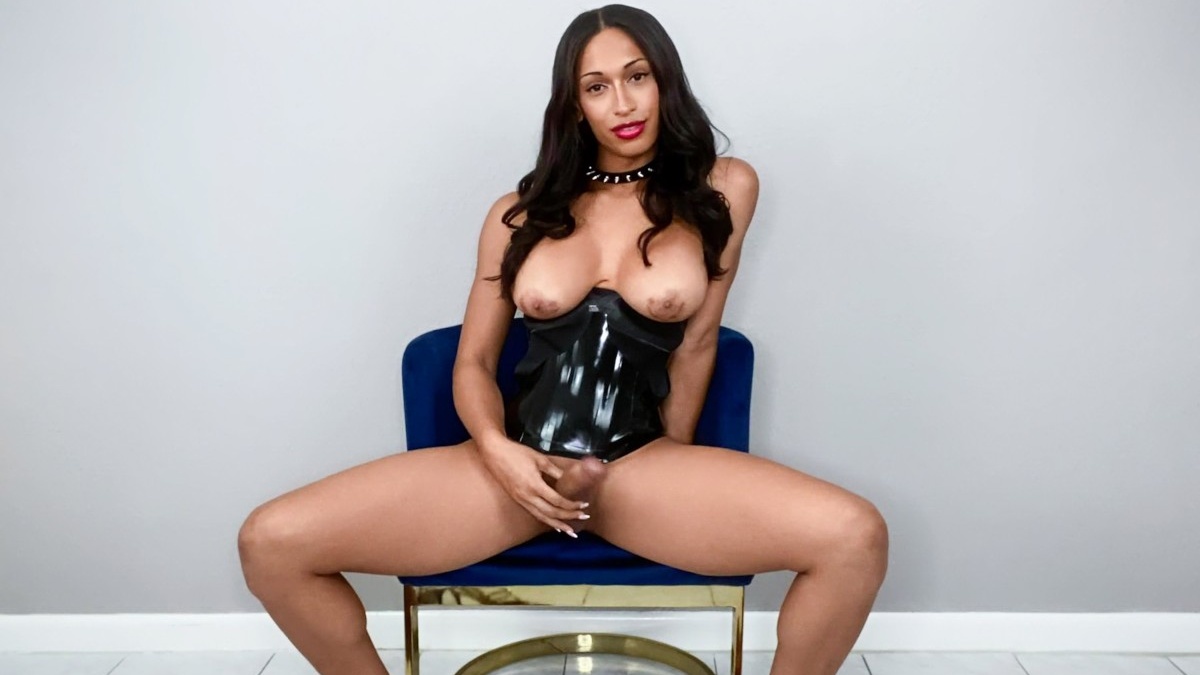 Ebony TS Mistress Jasmine Lotus is so scorching-hot, that she could turn on a rock at fifty paces. Jasmine, is a bewitching, tall, statuesque, mocha-skinned, transsexual siren, with a sublime feminine form, that most women would envy. Her long, flowing, silky-soft locks of coal-black hair, elegantly frames the flawless face of this breath-taking beauty. Initially, she saunters out wearing high heels, studded leather collar, black vinyl panties and top, while toting a riding crop. Sitting on a chair, like a queen on her throne, she taunts us with her hypnotic voice and wicked mind. After kicking off her high heels, she extends her leg to offer us her pretty toes to suck. Mistress Priscilla's sultry, hypnotic voice is so hot, that it could melt butter. Mesmerized by the dulcet tone of her entrancing voice, you will beg to be her bitch.
Watching Ebony TS mistress Jasmine Lotus jerk off her mouthwatering humongous dick will blow your mind
First, ebony TS mistress Jasmine Lotus, exposes her amazing, full, round, breasts, while shaking her temporarily, flaccid phallus, to lure us in closer. Next, she leans back in the chair, expertly fingering her asshole, while moaning elatedly, in seventh heaven euphoria. Lost in lust, she revels in her sensual finger-fucking, moaning, and sighing, in whorish rapture. As a result, with her fuse lit, and her mouth-watering, humongous, horse cock hard as a rock. In truth, Mistress Priscilla's delectable, immense, savory sausage is truly, a jaw-dropping sight to behold. Realizing the effect that it is having on us, she smiles wickedly, as she firmly strokes her stony, obelisk of lust. Furthermore, she moans, and yelps, ecstatically, while sensually stroking her colossal cock, fondling her balls, and fingering her asshole. Finally, her passions erupt, as an all consuming orgasmic tsunami engulfs her, spilling her sweet seed onto the floor.