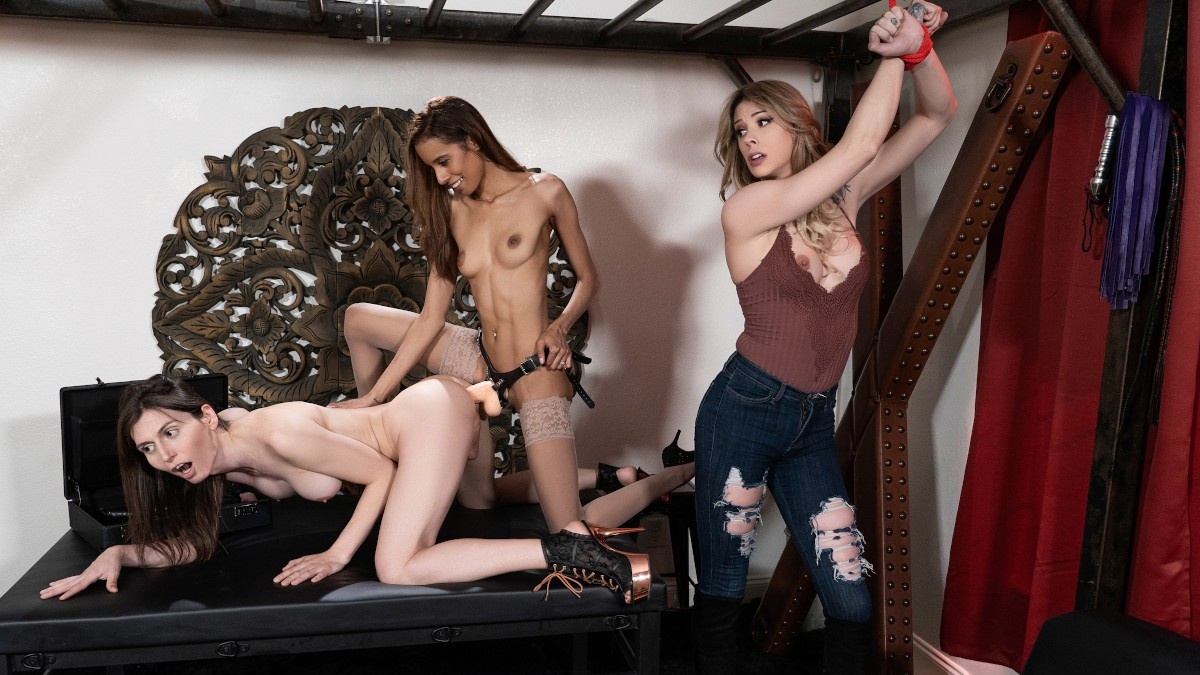 Sitting next to her TS Korra Del Rio and chatting casually, cuckold tranny Casey Kisses has no idea that she will be watching her trans GF get strap-on fucked by a complete stranger less than an hour from now. The two reminisce about the events of the night before, as they were out clubbing together. It seems a hot young vixen had her eyes on Casey and was definitely looking to hook up with her. But the shemale thought it better not to, seeing as the girl clearly had had a few too many drinks that night, and might not had been thinking straight. Korra laments this missed opportunity as she knows the two of them could have had so much fun sharing that babe's pussy. But she understands and respects her GF's concern about the stranger. She herself would have certainly done the same.
Kylie Lebeau pounds Korra Del Rio's ass while cuckold tranny Casey Kisses watches
Casey mentions that seeing that girl at the club and not being able to bring her home had left her feeling incredibly horny, to the point where she basically spent the entire night squirming in bed because of how desperate she was for sex. Hearing this greatly disappoints Korra, as she would have expected her transsexual lover to wake her up and pummel her ass like a madwoman if she was really feeling that horny. The doorbell rings at just the right time to save blonde tgirl as its sound interrupts the argument before it could spiral into something ugly. At the door is the classy sex toy sales rep Kylie Lebeau. And after showing Korra some really nice items that peak her interest, she puts her strap-on on. Suddenly, cuckold tranny Casey Kisses finds herself tied up and forced to watch as a complete stranger gapes her GF's asshole.