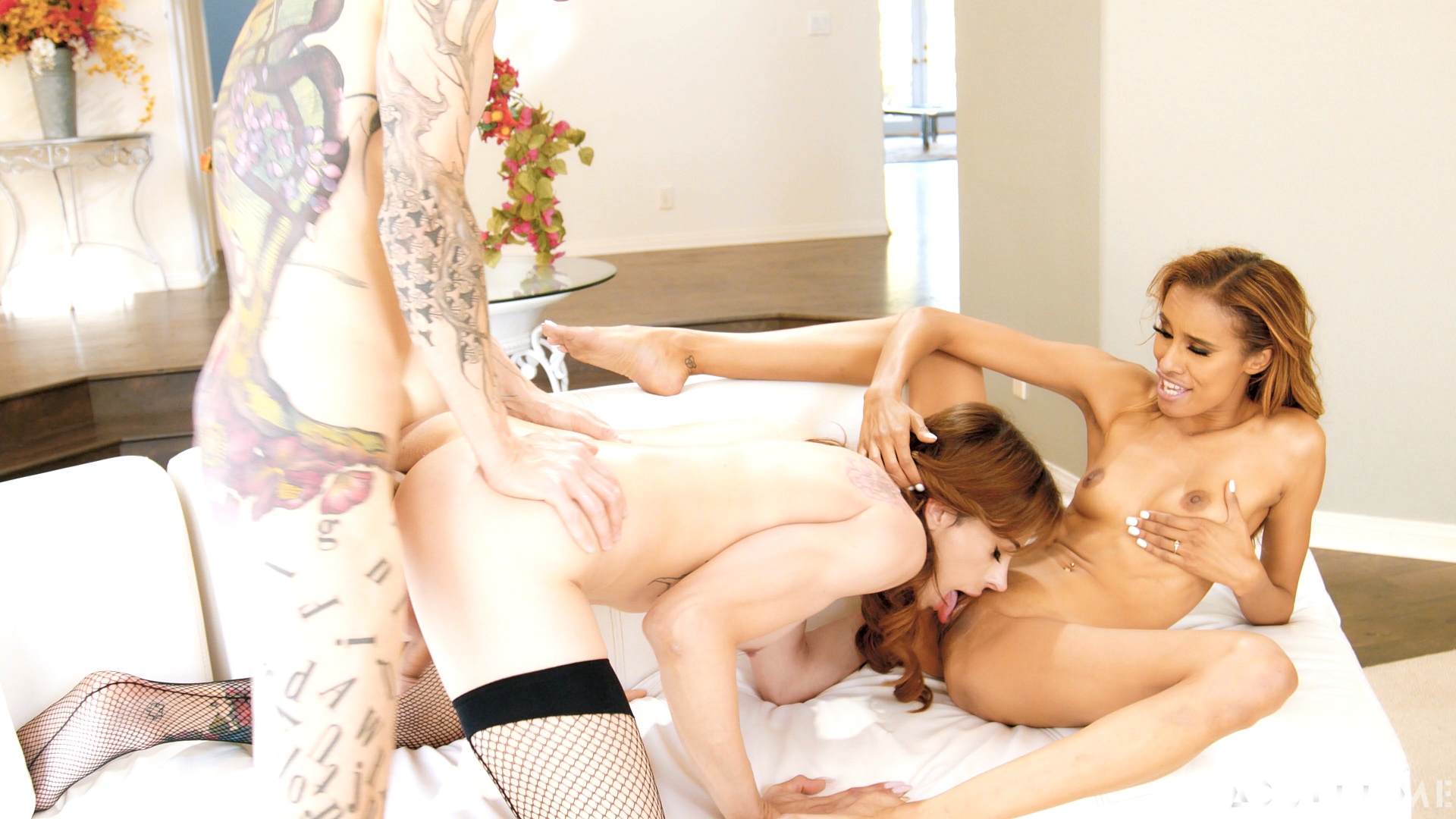 Shecock-addicted ebony slut Kylie Lebeau is in yet another Casey Kisses tranny threesome. Their lucky third wheel this time is the handsome Owen Gray. They start things off with some oral introductions. Kylie puts her magical lips on Owen's big dick and begins to slide them up and down. Meanwhile the chap is busy passionately kissing with Casey, knowing his little self is in very, very good hands. He then begins to nibble on the tgirl's nipples while their friend continues her phenomenal blowjob. But Casey quickly realises that one mouth is not enough to satisfy such a fine shaft. Thus she gets on her knees and gives Kylie a helping hand, holding the base for her while she melts the tip, before tagging in to demonstrate her own cock-sucking prowess. It is safe to say that Owen has never experienced more gratification in his entire life.
Trading the pleasure in a rowdy Casey Kisses tranny threesome
More tongue-flicking action ensues as Kylie entrusts control of the blowjob to her transsexual teammate, in order to climb on top of their male partner and bestride his head. Owen immediately gets to work, feasting on the black chick's pussy while he receives his own oral stimulation from Casey. There's only one issue with this three-way arrangement however, it leaves a certain delicious girldick completely uncared for. And if there's anything Kylie Lebeau can never get enough of, it's sweet soft trans rods. After being served by her GF to compensate for the lack of attention, it is finally time for this Casey Kisses tranny threesome to go hardcore. The TS's asshole is the first to be reamed, as Owen makes sure to pound nice and hard. He then turns his attention to Kylie, drilling her pussy until both he and Casey bust a fat nut all over her body.