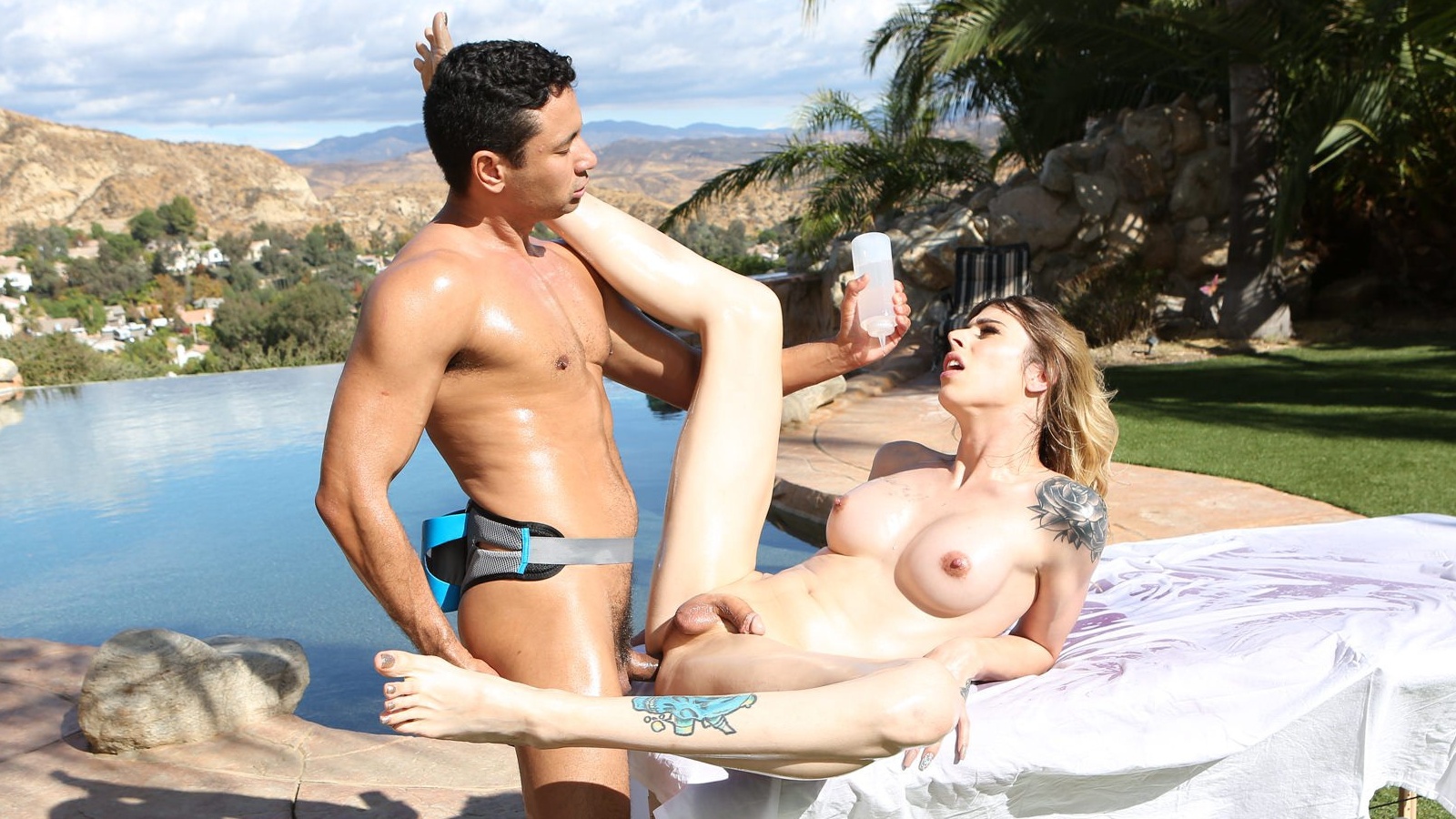 Bathed by the gentle afternoon sun on a lazy summer day, Gabriel D'Alessandro is tasked with Casey Kisses tranny massage for the day. He sensually rubs down the TS as she lies there fully nude by the pool. Her senses are so so occupied that she does not pay any mind to the gorgeous view from her mansion overlooking the entire hill below. Gabriel is certainly not shy, and he savours every inch of her sizzling oiled-up body as he climbs on top of her to enhance the experience. He slowly moves from her neck and shoulders all the way down to her ankles, making sure he does not miss a single tense spot. The stud then pulls out his cock, and presents it to Casey as he flips her on her back and starts wanking her off. The tgirl welcomes the gesture, quickly stuffing the dong in her mouth.
Trading ass fucks after a Casey Kisses tranny massage
The blonde shemale ramps up her dick-sucking pace, and also her technique. She swallows the shaft deeper and deeper until the tip hits the back of her throat. Being a professional, she makes sure not to forget the balls, slurping on them like a hungry slut. All the while, her masseur continues to gently stroke her sweet pecker with his hand. But now that they are both well-acquainted, it is time to elevate this Casey Kisses tranny massage into something more torrid. And so the trans babe spreads her legs on the wet table, inviting Gabriel to ream her butthole wide. She then bends over and receives his love from behind. After her turn on the bottom is over, Casey lovingly returns the favour to her partner, pounding his ass raw in doggystyle. And to celebrate, they pop their loads all over each other's faces.