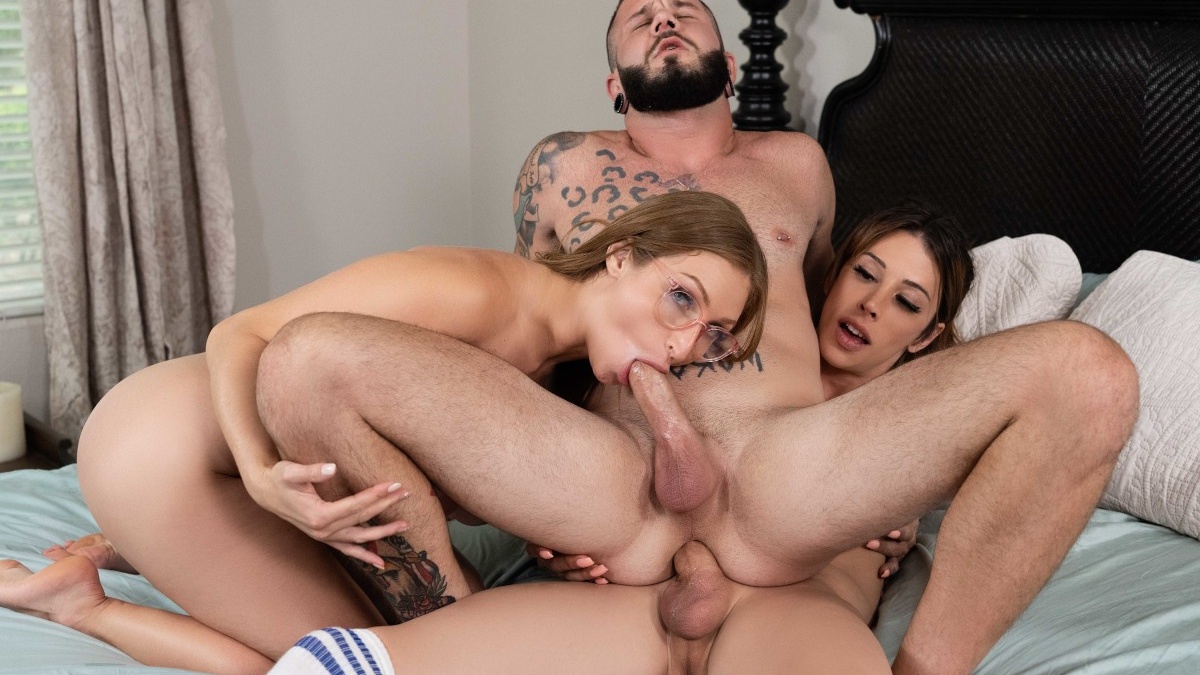 Johnny wakes up and looks to his left to find Casey Kisses and Skylar Snow trading oral sex in 69 right next to him in bed. After standing and staring in disbelief for a straight minute, the most straight he's ever been, he desperately attempts to touch the busty Puerto Rican. Skylar is kind of busy what with the hard cock she's sucking on and all, so she shoos him away with her hand while her focus remains on giving her trans partner the best head known to man (or tranny). But she knows that he simply can't stand there and watch such a torrid scene transpire before his eyes without somehow being a part of it. So she gives him her panties to play with. Being the deviant that he is, Johnny wastes no time as he instantly begins sniffing the girl's underwear then wears it on his head.
An amazing threesome with Casey Kisses and Skylar Snow
Having a babe's used panties cover your face is a wonderful feeling, but it does come with its downsides, the most important of which is that your vision is blocked, and thus you have no idea what's happening around you. Casey Kisses and Skylar Snow intend to use this temporary state of blindness to their advantage, and they do so by having the big-tittied Latina lie on her side and guide Johnny to her sweet pussy, while the shemale slowly sneaks up behind him. As soon as the bloke's cock finds its way inside Skylar's twat, Casey's girldick quickly penetrated his asshole. Realising what's going on, Johnny is even more aroused than he was at first. This is one anal train he has no problem being a carriage in. Who in their right mind would detest being sandwiched by these two goddesses?