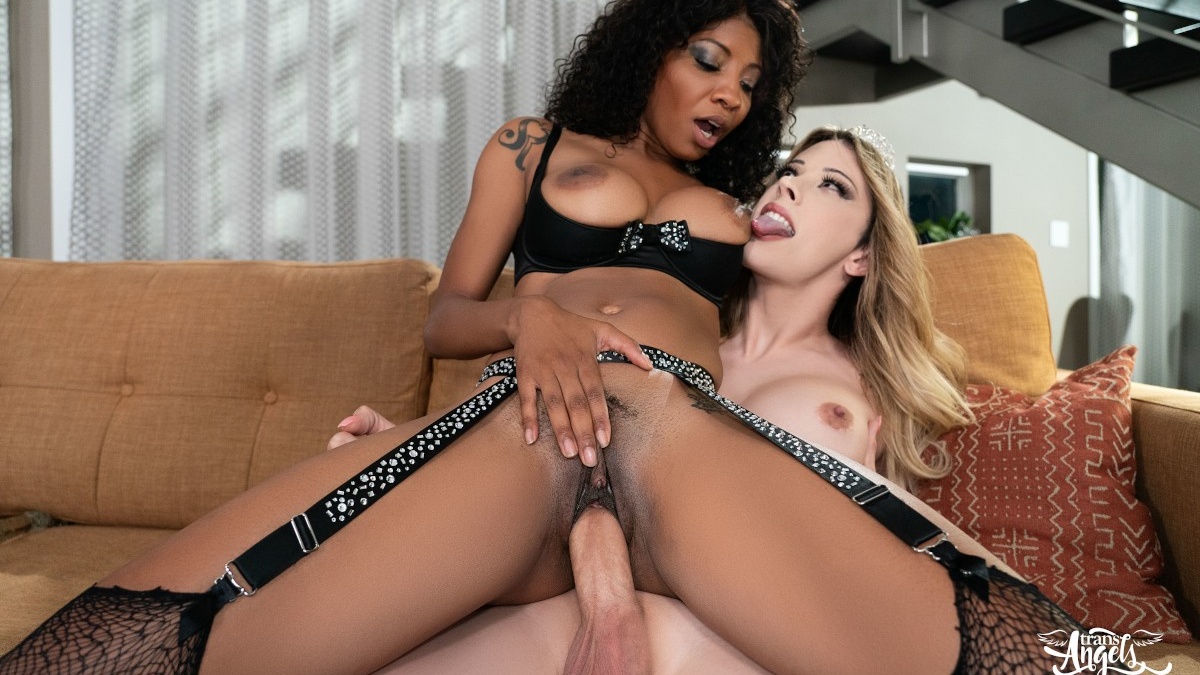 Glamorous, blonde shemale Casey Kisses is a tall, svelte, elegant, transsexual beauty queen, with totally passable, runway model looks. Naturally, wearing a diamond tiara, exquisitely embroidered bustier and panties, shear, black stockings, and high heels, enhances her feminine facade. Voluptuous, ebony, real girl, September Rain, sits across from Casey, longing to be her coveted, cum queen. To start with, these glittering, glamor girls sensually savor licking and sucking two shimmering, glass dildo, with sluttish, epicurean relish. In my opinion, watching these two tantalizing seductresses, is a slow burn, that risks melting your computer, or your mind, should you be up for the challenge. Subsequently, September greedily savors sucking Cassie's scrumptious, jumbo-sized Johnson. In fact, September voraciously sucks beguiling Casey's magnificent, member, with whorish, wolfish hunger, and deft oral artistry. Furthermore, elegantly attired, with long, luxurious eye lashes, and a perfectly sculpted, porcelain face, Casey is a breathtaking vision.
Ravishing blonde shemale Casey Kisses fucks ferociously
Looking exquisite, Queen Casey's sublime breasts heave with passion, as she revels in having her delectable dick sucked. Notably, September, masterfully sucks this divinely, dominant, beauty's big, beautiful prick, with sluttish avarice, while she groans approvingly. Subsequently, blonde shemale Casey Kisses, masterfully licks September's fur-topped, quivering quim, as she moans ecstatically. After setting September's passions ablaze, commanding Queen Casey, barbarously drills her huge cock into September's fur burger, in missionary. Of course, September moans, and cries out, in whorish exultation, loudly professing how good Queen Casey's cock feels fucking her. In due time, September wantonly rides magnificent Casey's spectacular, colossal cock towards some decadent Nirvana in cowgirl. In conclusion, Queen Casey ferociously jacks off her mouthwatering, colossal cock, as she dominantly stands over September kneeling before her. Finally, Queen Casey's volcanic, screaming orgasm unleashes buckets of cum that pour into September's mouth and onto her face, for a phenomenal facial.