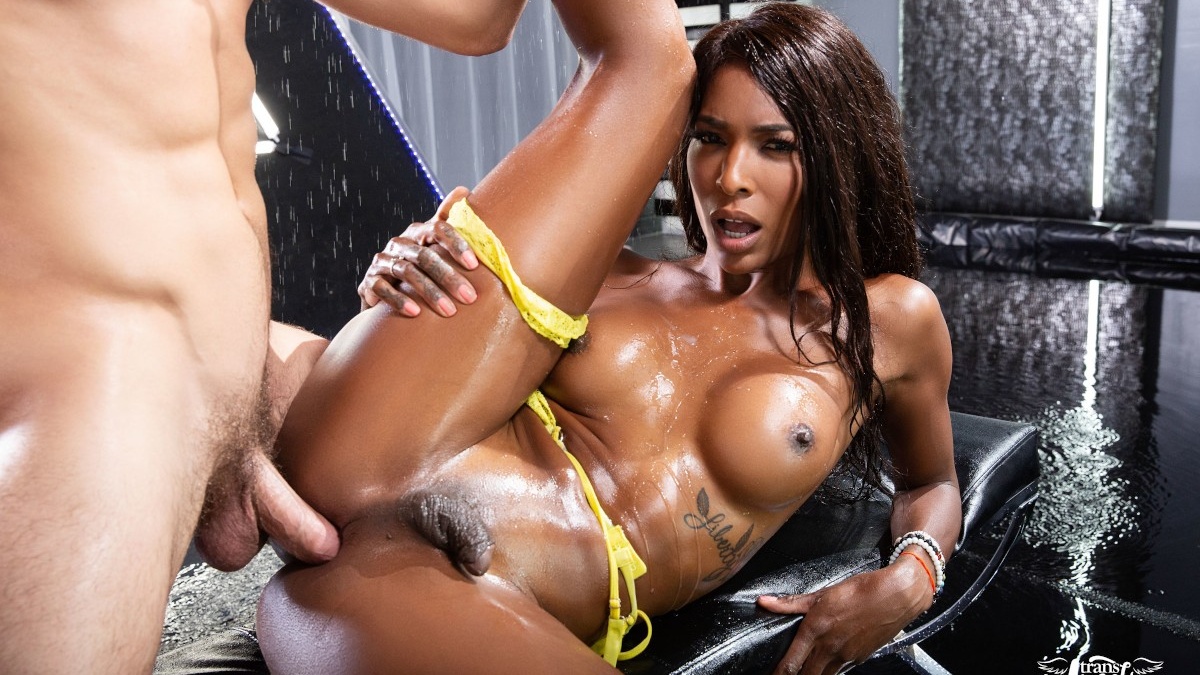 Incendiary, black shemale Natassia Dreams is scorching hot in this amazingly, high production-value, music video like sex scene. Consequently, water must rain down continuously, to prevent her searing heat from transforming the set and cast into blazing inferno. Indeed, Natassia is a stunning, smoking-hot, tall, statuesque, dark-skinned, transsexual, Nubian goddess, who will mesmerize you. Moreover, her bright, lime-green bikini, accentuates her exquisite, long, silky-smooth, jet-black hair, and shimmering, coal-black skin. To start with, as water rains down everywhere, Natassia sensually gyrates to a pulsating disco song on a glitzy stage. When her sinewy, male co-star Dante joins her, Natassia sensually coils around him like a Cobra ready to strike. And so, bewitching Natassia drops to her knees, sensually, savoring sucking his potent prick, with sluttish, epicurean relish. Watching this beguiling connoisseur of cock, luxuriate in sucking Dante's rigid rod, is wondrously hypnotic.
Ravishing black shemale Natassia Dreams is a torrid and wild fuck
Subsequently, alluring Natassia, and her handsome hunk Dante, revel in a wet and wonderful, 69. Moreover, this jet-black, sexual siren revels in vigorously fucking Dante's mouth, with fiery, fervor while she sucks his cock. Next, succumbing to her impassioned pleas, Dante slides his shaft into her sublime, firm, round ass in doggie, bareback. Accordingly, he resolutely drives his beef bazooka into her heavenly ass, as she moans, and howls, with unbridled, primal passions. Because of the lights glinting off of her dripping wet ass, she sparkles with an ethereal, shimmering, otherworldly beauty. Once in missionary, Dante brutishly drills his dick into her, as she screams, and cries out, begging for more. To conclude, in tandem with the rain surrounding them, Dante releases a torrent of cum to decorate her beautiful boob. Writhing and moaning, in an intoxicated, cum-drunk delirium, black shemale Natassia Dreams rubs his cum all over her body.