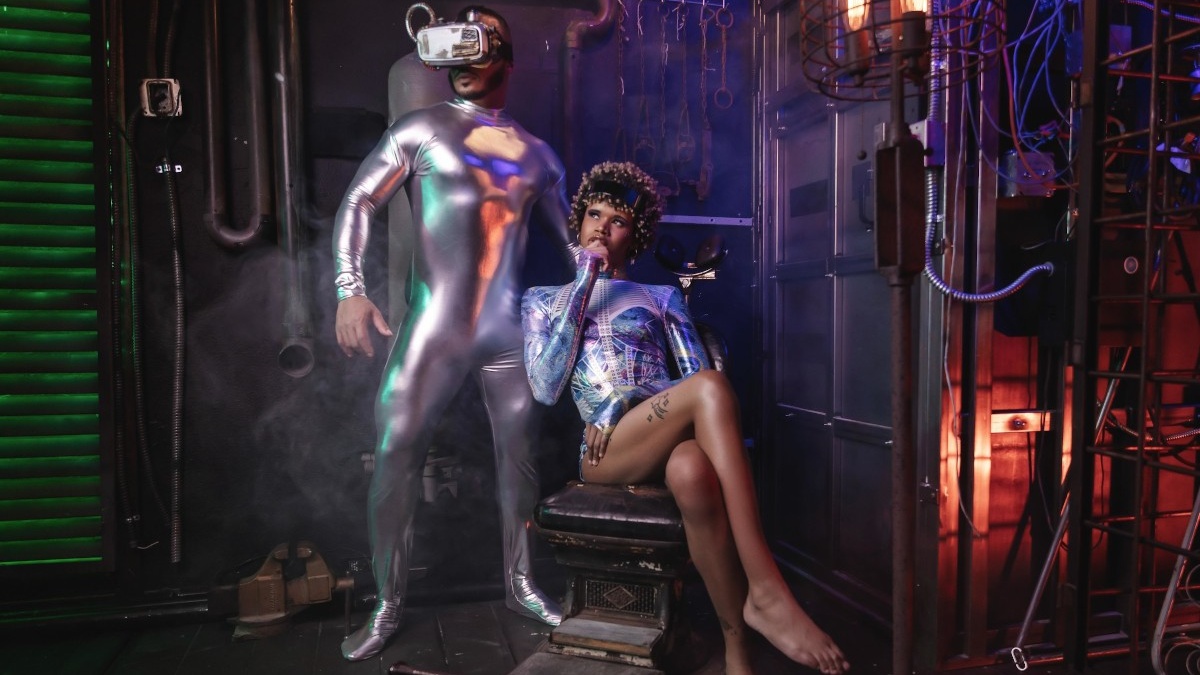 As soon as Dillon Diaz puts on his VR goggles, black shemale Cloudy Vi manifests in front of his eyes in a sexy futuristic outfit. She already has her chocolate popsicle out by the time he gets there, and there are definitely no complaints on the man's side. Licking and teasing as she strokes her pecker and spanks her firm booty, Cloudy has the player completely entranced before he even spawns next to her. No worries on Dillon's side though, as the tease only adds to the experience. Thus he emerges from the fog next to the tranny, wearing a slick silver bodysuit, and ready to satisfy her every need. The two begin snogging as each reaches for the other's plonker, and it becomes hard to tell whether the fog machine is the one generating all that steam, or if it is just the heat of the scene.
A futuristic ass pounding for black shemale Cloudy Vi
Being a gentleman, Dillon knows that ladies must have their dicks sucked first. And thus he gets on his knees, grabs his partner's butt, and begins to fellate her. Not leaving her man behind, black shemale Cloudy Vi strips down and opens her mouth wide, allowing Dillon the fuck her face deep, taking short breaks to slap her tongue with his staff before she goes back to deep throating. The dark-skinned TS then bends over on all fours, ready to receive her lover's passion in doggy style. After getting her cheeks clapped nice and well from behind, Cloudy takes the lead, hopping on top of Dillon as she begins to ride him in cowgirl. The ebony tranny then lies on her back with her legs spread wide. Taking his trans lady's hint, the stud then dicks down her asshole until both of them ejaculate.