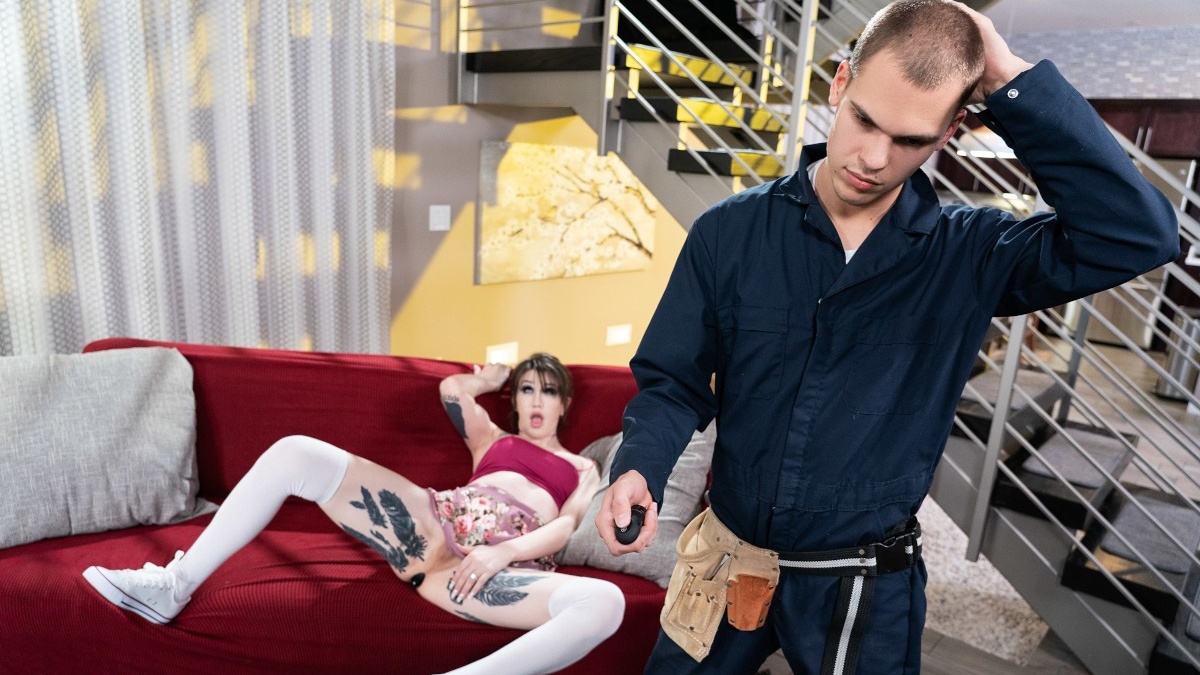 "The TV repair guy should be here sometime soon", says the husband to his visibly irritated TS wife Lena Moon. He's been repeating that same sentence over and over for about an hour now. And the fabled technician is still nowhere to be seen. What makes this typically-insignificant issue such a big deal for the trans babe, is that she has spent the last couple of months hunkered down in the living room thanks to quarantine. And the only thing that has made this long isolation from the outside world remotely bearable? The thousands of hours she has sunk into binging every show on every streaming app known to man, of course. Unfortunately for Lena, her televised blessings eventually ran out when the magical time-wasting box lost its function. And after an entire week of waiting for him, this tardy repairman just can't seem to make it already.
Lucky technician gets to bareback TS wife Lena Moon
After incessantly nagging her hubby to do something about the missing professional, he reluctantly leaves, with a promise to ring the man and find out what's causing the delay. Taking this chance to finally do what has been on her mind all day, TS wife Lena Moon inserts a remote-controlled vibrating butt plug up her bum, then begins to rub her girldick after turning the device on. Hearing the sound of the front door being shut, her television-repairing hero could not have arrived at a worse time. After scrambling to drop her skirt back down, the tbabe manages to avoid disaster. But her misfortune is only beginning. as the bloke mistakes her toy's remote for the TV's, and, oblivious to the fact that he's teasing her sensitive asshole, he repeatedly presses it. To pay for his sins, he has to complete what he started by drilling her bunghole raw.