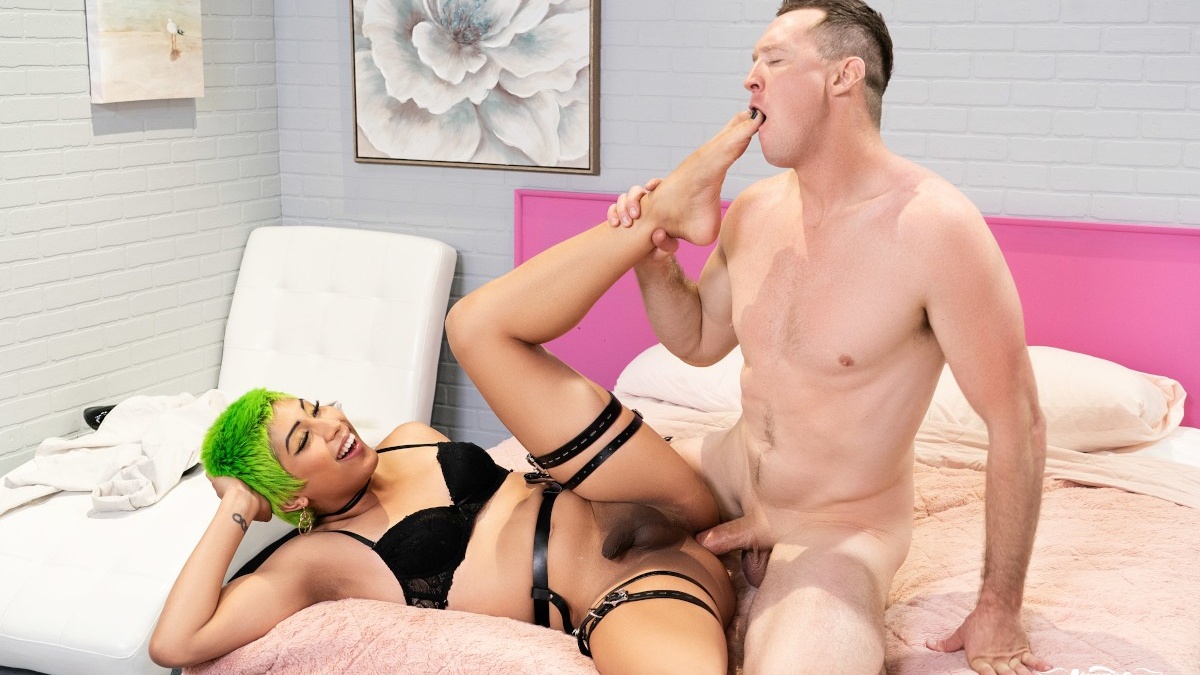 Barging into the bedroom with his GF, horny Pierce Paris is looking to show TS Pixi Lust foot worship like she's never experienced before. Dressed in tight leather pants and matching black high heels, his green-haired shemale lover has come prepared for some kinky pleasures. She begins by tying him up to the bed with ropes she set up earlier that morning. Pierce is alarmed at first, but quickly becomes aroused by the thought of being dominated and used for pleasure by this young tranny goddess. Feeling a sadistic rush, Pixi lifts up her leg and presses her heel against her man's mouth. And the guy makes sure to clean his mistress's shoes well for her, licking and sucking on the heels before she takes them off and climbs on top of him. It was fun watching him serve like an obedient subject, but it is time to move on.
Newly trained slave give TS Pixi Lust foot worship
The dominant tgirl makes Pierce taste her pretty toes. Shining her black nail polish with his tongue as she pushes her foot into his mouth. Exiting the room to change into gear that better fits her new role as a dominatrix, Pixi feels confident that her BF won't be able to escape his bindings. Unfortunately for her, he quickly proves her wrong. Exploring the room further, the dude finds to large holes in the wall. And with the trans fetishist he's dealing with, he can only assume they are there for less-than-innocent purposes. Thus he makes his way into the bathroom that the holes lead to. And it does not take his lady long to figure out where he's hiding. Putting her delicious feet through the wall signals the beginning of more TS Pixi Lust foot worship, which leads into an ass drilling and jizz on her soles.