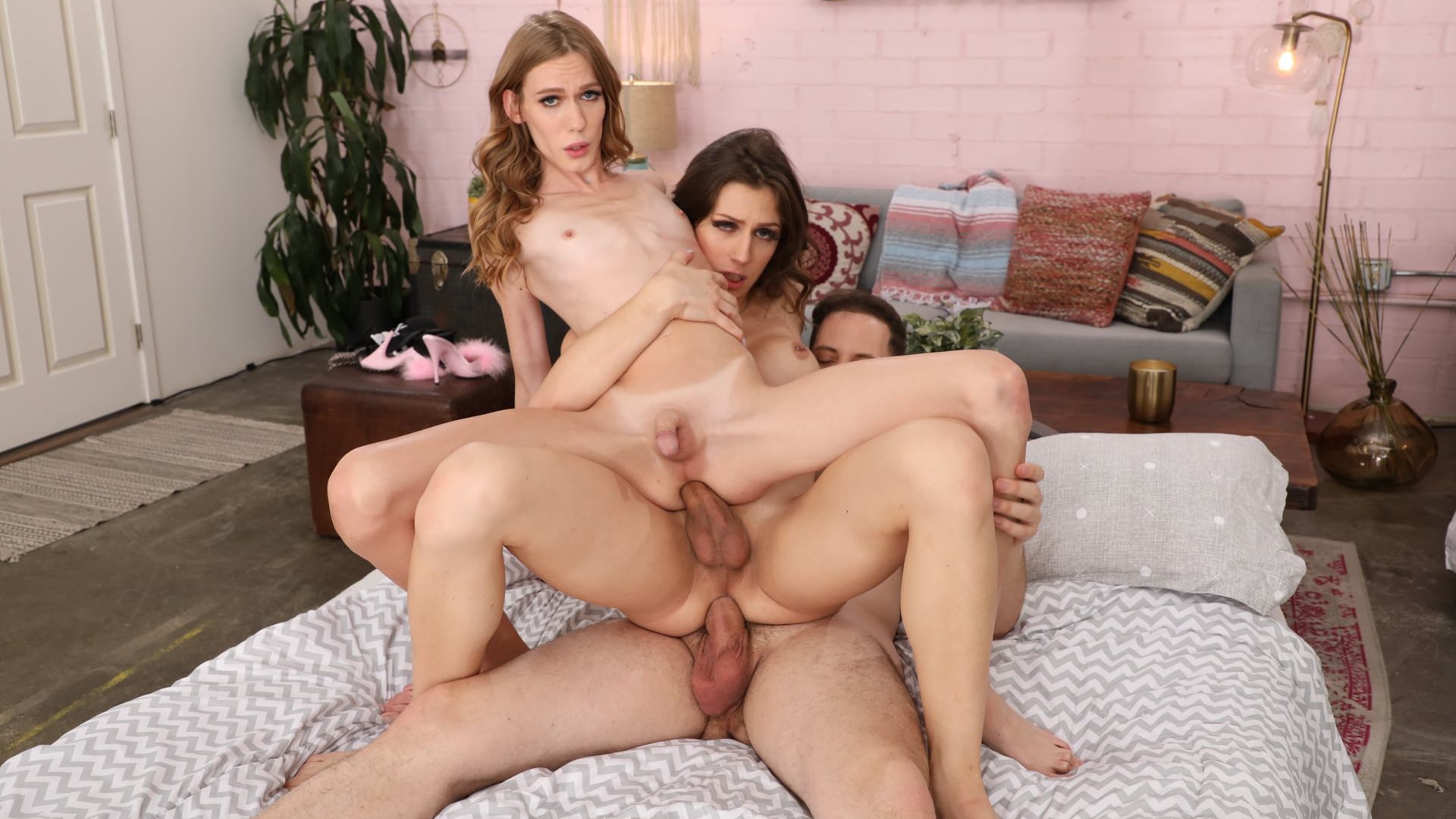 As he escorts slender tgirl Crystal Thayer into his loft, cheating hubby Wolf has no idea he will soon end up participating in some TS Jade Venus threesome action. His bombshell shemale wife is out of state on a business trip, and won't be home for at a least a couple more days. Wanting to take advantage of her short and infrequent absence, he quickly downloads every dating and hook-up app he can find on his phone's app store. After sifting through a bunch of uninteresting profiles, he ends up matching with a young and cock-hungry Crystal Thayer. And when he asks if she would to go back to his place after a lovely date, the skinny trans cutie excitedly agrees. Completely oblivious to the fact that she's about to fuck a married man, Crystal is about to find herself in one hell of a coincidence.
Unfaithful partner finds himself in a TS Jade Venus threesome
The two strangers strip down and start their hot casual fuck session. Wolf shoves his pecker inside Crystal Thayer's tight asshole and rams it to his heart's content, as her moans engulf the room with an intoxicating lustful mist. Their fun is interrupted when they suddenly hear the sound of the front door being unlocked. Even though he reassured the teen trap time and again that he is single and lives alone, Wolf's transgender wife is now at the door. Without any explanation, he asks the flabbergasted tranny to hide under the bed. Jade explains to her bollock-naked husband that a cancellation of her last meeting allowed her to take an early flight back home. She's so horny that she wants him to pound her ass right then and there. But when she discovers the intruder in her loft, they all suddenly find themselves in a TS Jade Venus threesome.