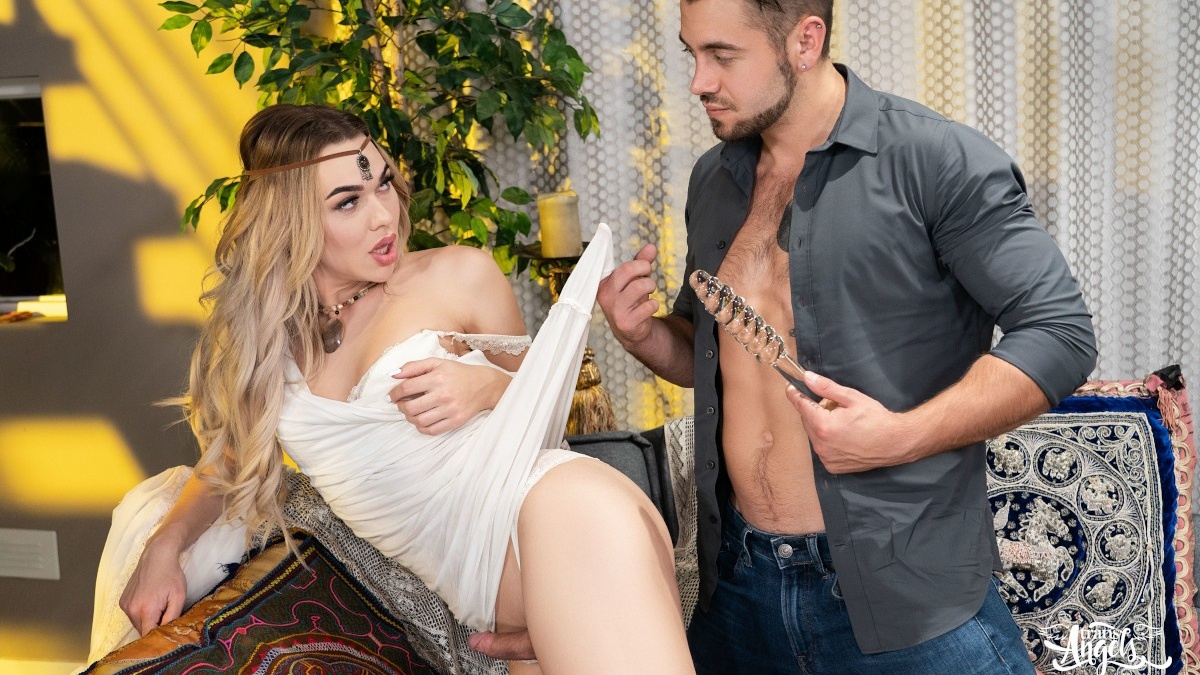 Dressed in an angelic outfit, TS babe Emma Rose is preparing for a passionate session of anal sex. A sheer white night gown covers her delicate body as she sets up her surroundings to guarantee maximum sensuality. Her long strands of beautiful blonde hair sway around her shoulders as she empties her bags, producing one naughty item after another, the last of them being a swirling glass dildo, which she proceeds to lecherously lick. The shemale beauty then takes a seat on her couch and lights up some scented candles in anticipation of her well-endowed guest. The cock that was promised finally arrives as Dante Colle enters the room. The enchanting tgirl welcomes her lover and asks him to take a seat right next to her. The two hold hands as Dante loses himself in Emma's eyes. Unable to wait any longer, he reaches for her firm breasts.
Making love to TS babe Emma Rose
The stunning trans blonde is not at all upset that her man has not intention of taking it slow. She in fact could not be more excited that he is just as eager to savour her sexy body as she is desperate for his long stiff love stick. TS babe Emma Rose then whips out her soft girldick, allowing Dante to dive in head-first, fervidly sucking her pecker hard. She then bends over on the couch, and her smitten partner quickly pulls down her white panties, exposing her nice butt. Taking no time to tease or even lube, the guy shoves his raw dong deep inside the tbabe's back door. Emma moans lustfully as her booty gets pummeled in doggystyle. Feeling that she has not served her fucker well enough, she blows him before riding his plonker until the both drench each other with hot semen.