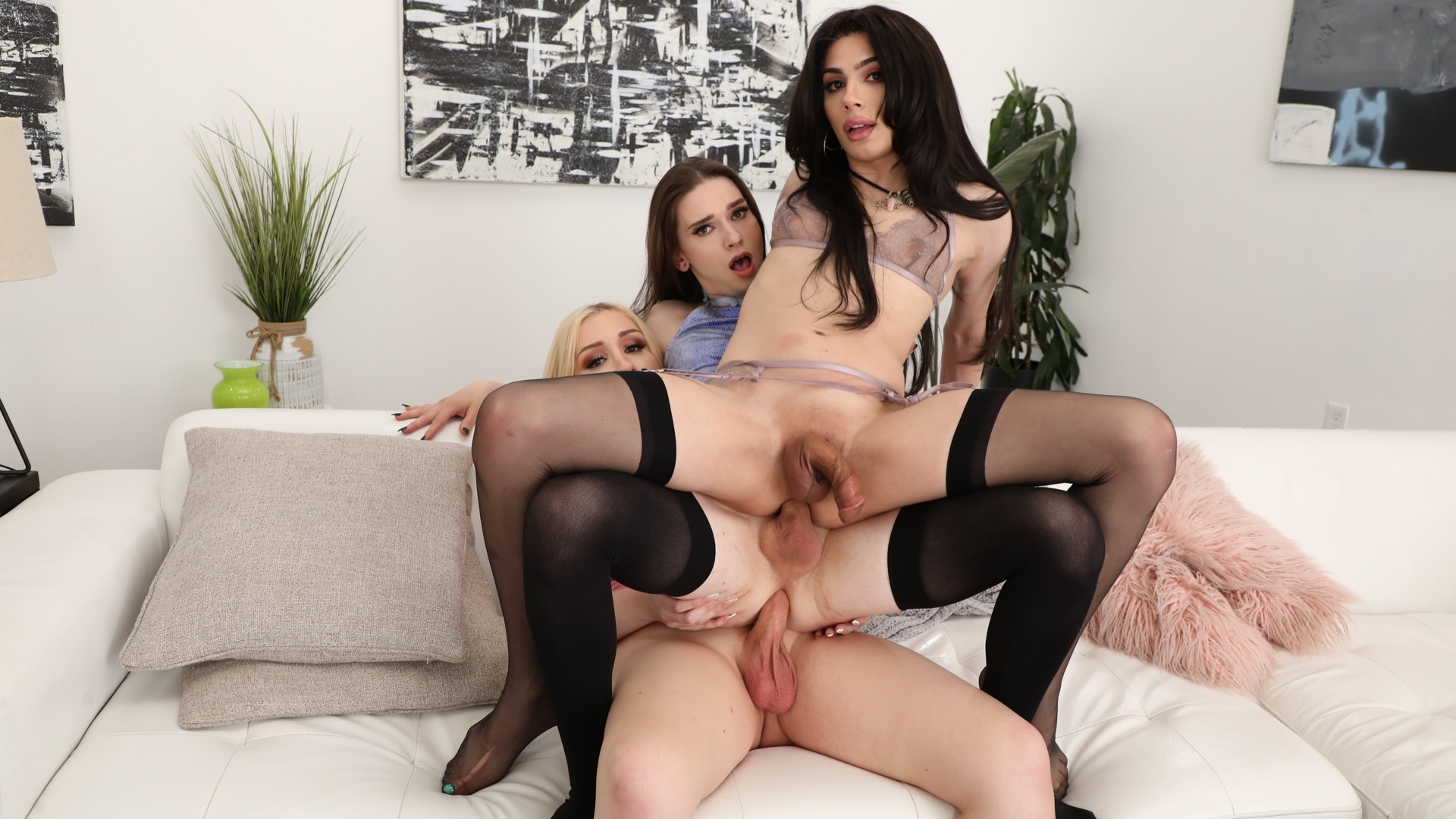 Horny blonde Angelina Please strokes her cock while fantasising about making a transsexual anal train with Ariel Demure and Jenna Creed. The two trannies shamelessly give each other handjobs and snog right in front of a third-wheeling Angelina, who sits there, mouth agape with desire, as she imagines all the things she would like to do with them. So recalcitrant is her lust, the she finds herself uncontrollably crawling towards the two TS sluts. Hoping they would allow her some of that irresistible pleasure. She grabs Ariel's hard dick and starts to slide her lips up and down the staff as she pushes it deeper down her throat. Not wanting to be left out, Jenna stands up and flaps her flaccid pecker around, guiding her GF's mouth towards it. Angelina desirously ogles the face fucking as she proceeds with her oral attack on Ariel's rock-hard shaft.
Getting in line for the transsexual anal train
Angelina receives her own mouth service as Jenna bends over and starts slurping on her dong. Meanwhile, the third shemale takes this opportunity to drill her lover's butthole while she is busy sucking cock. It is finally time for all three of them to unite, forming their very own transsexual anal train. Ariel begins by mounting Angelina's shecock, riding it like an experienced cowgirl while the blonde TS rubs her plonker. Jenna then climbs on top of her transgender partners. Carefully sitting on Ariel's rod as all three cumsluts connect their assholes in a sensationally erotic visage. They then start bouncing as they penetrate each other raw. The sizzling action then moves sideways, with Angelina and Jenna continuing to sandwich Ariel between them. Awarding her the maximum amount of pleasure as she receives an anal drilling from behind while shoving her meat inside another girl's bum.