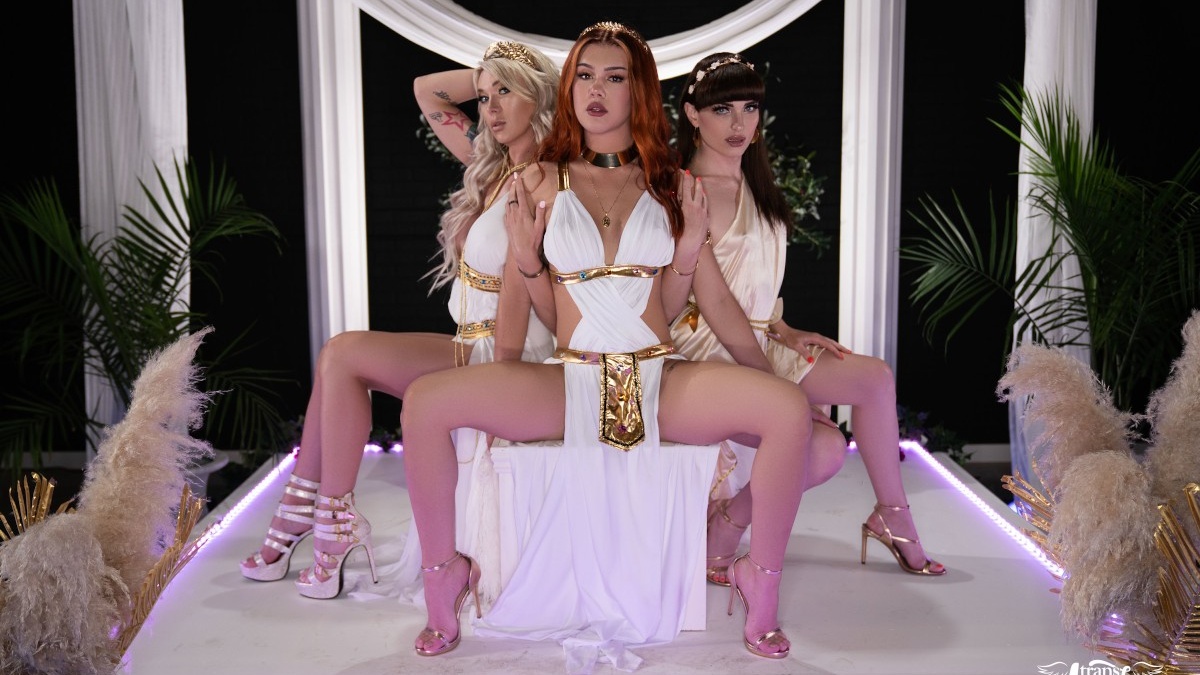 Enchanting as ever, goddesses Natalie Mars, Aubrey Kate, and Daisy Taylor are gathered for a divine transgender threesome. Their empyrean white tunics are adorned by straps of royal gold. On their heads are diadems of sheer beauty. And their golden high heels put a finishing touch to the seraphic aura. Daisy and Natalie start lustfully running their loving hands all over Aubrey's body. They then unstrap her gown to reveal her fine tits and delicious shecocks. Unable to resist, the two tbabes begin to uncontrollably touch and kiss their companion's luscious legs. All three trans angles are soon fully nude. And the first to receive attention is of course the gorgeous Daisy. She lustfully moans as her partners stroke her girldick before getting on their knees to pleasure her orally, turning her diamond-hard almost instantly. One thing is guaranteed, none of them will be leaving tonight without having an orgasm.
Sharing each other in an incredibly torrid transgender threesome
Next on the menu is the alluring Natalie Mars. She lies down, spreads her ass cheeks, and lifts her legs up. Then she closes her eyes and loses herself in pure gratification as Daisy licks her asshole and Aubrey sucks on her lollipop. It is time for her to repay them for such a heavenly service. Thus she lets Daisy take her place and climbs on top of her, taking a seat on her erect shaft. The redhead tbabe begins to fellate her third mate as Natalie bounces up and down her joystick in a most sizzling manner. Since all participants in this celestial transgender threesome love just taking as much as they love giving, Aubrey certainly does not need to worry about being forgotten. Her needs are quickly taken care of as Daisy bends over and lets her shemale GFs spit roast her, before sharing Aubrey's cum with Natalie.