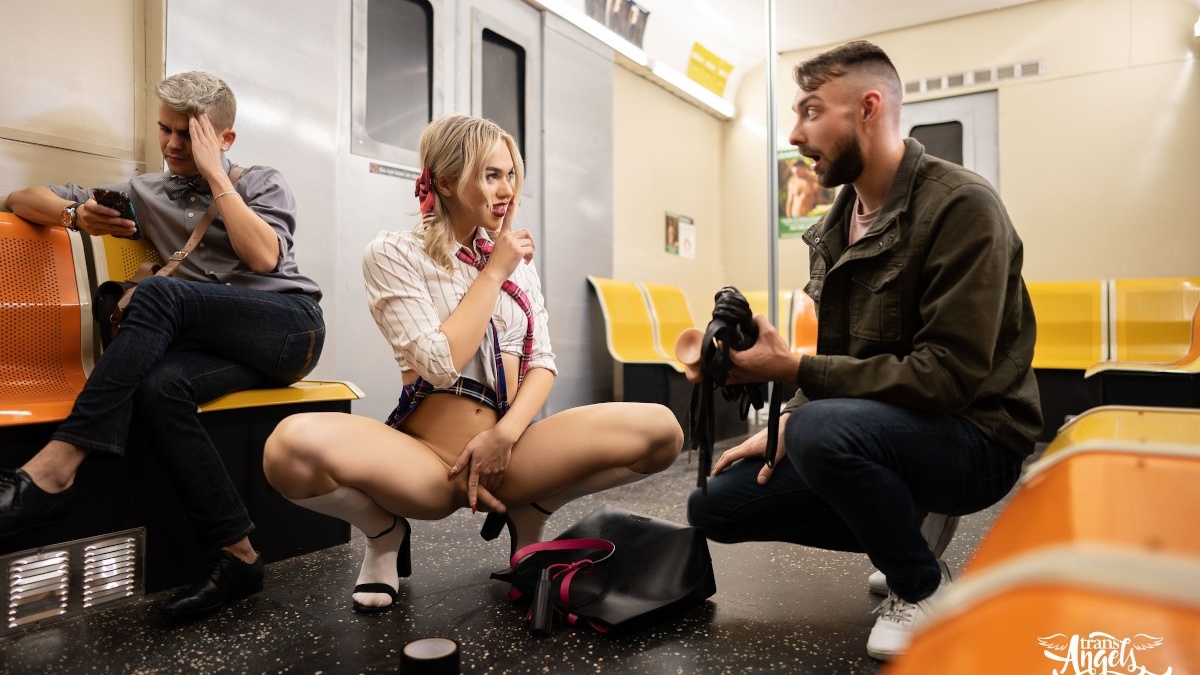 School's out and trans teen Emma Rose is riding the tube on her way home. She didn't bother wearing any underwear today, or most days really. Next to her is enamoured Johnny B, who can barely believe he was lucky enough to hop on the same car as this attractive blonde babe. So enchanted is the skinny man by the TS chick standing next to him, that his mind slowly drifts into a state of endless imagination. He zones out as an image of Emma starts forming in his head. She's wearing a sexy black outfit and showing off her goods as she performs a tantalising pole dance in an empty car, swinging her shecock as she shakes her fine behind. Unfortunately for the daydreaming feller however, all good things must come to an end, including his lewd fantasy. And thus, he snaps out of it with a slap.
Trading ass fucks with trans teen Emma Rose
After helping the creep next to her leave his blissful dream world, trans teen Emma Rose drops her bag on the floor. With her belongings scattered all over the place, she bends over to pick them up. The passenger sitting next to her is thus quickly greeted with her tight shemale ass and girldick winking at him from beneath her extra-skimpy skirt. Rushing to help his newly crowned princess, Johnny notices that the contents of the tgirl's bag consist mostly of kinky sex toys. While he cannot tell why she would need this stuff at school, he is not complaining. Especially not after she flashes him her cute popsicle. Completely shameless and swept by desire, the two strangers take off their clothes in front of a shocked bloke. They then proceed to take turns drilling each other's bungholes bareback. Culminating in Emma releasing her sweet load into Johnny's gagged mouth.