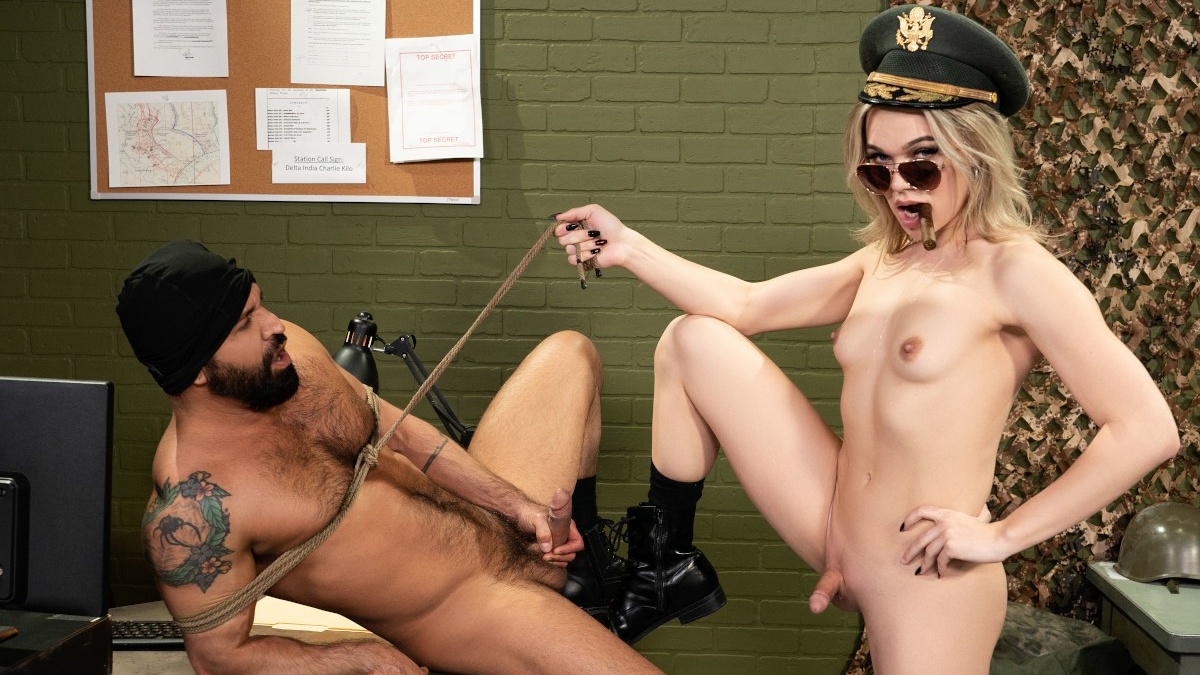 Sneaking into a military base with some extra-tight gear, trans spy Emma Rose is here on a perilous mission. Her goal is to infiltrate the enemy's command centre and retrieve a wealth of sensitive information that will help her clients better prepare for any possible confrontation. The tbabe herself could not care less about the conflict or any of the parties involved in it, hence why she calls them "clients". Her motives are purely selfish and material. Fancy, shiny things make her happy, and she feels no obligation to explain herself to anyone. Her temporary loyalty can only be bought with money. And that allegiance will last so long as you remain the highest bidder on her top-tier services. What the shemale siren does not know yet however, is that the base won't be the only thing getting infiltrated on her mission tonight, but she's come prepared for anything.
Bareback infiltration for trans spy Emma Rose
Successfully smuggling her smoking hot body through most of the base's defences, trans spy Emma Rose has nearly reached her target. Coming across an unsuspecting soldier blocking her way to the command room, the blonde TS uses her charms to make quick work of the roadblock. A single swing of her weapons-grade shecock was more than enough to knock him out. Turning a disadvantageous situation in her favour, Emma strips the private of his uniform and hurriedly attempts to put it on in order to enhance her disguise and smoothen her path forward. Unfortunately for her, her phat ass was too big for the soldier's slim pants. Making matters worse the commander walks in while she's halfway through slipping into her outfit. Finding the fine booty in front of him irresistible, the general decides to reward Emma with a little anal infiltration of her own.