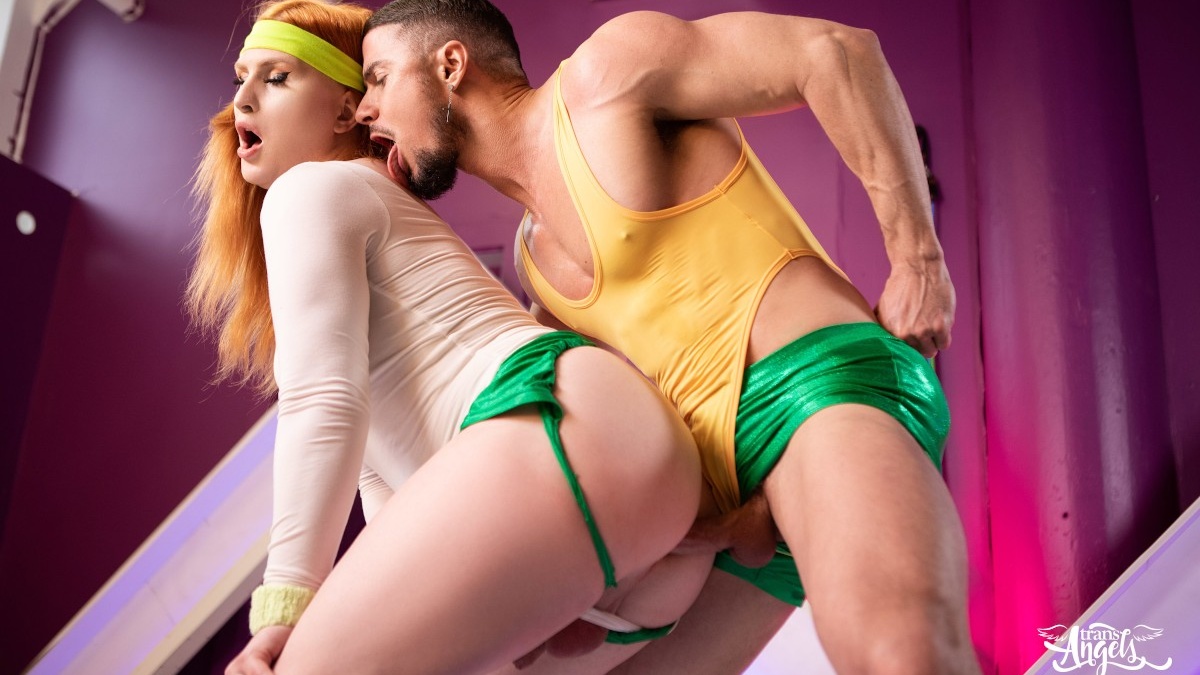 Wrapped in a tight 80's-style workout outfit, trans redhead Evie Envy is looking like a damn fine fitness coach. She has come to the studio today to shoot a highly requested video for her ever-growing audience of horny admirers and perverted stans, an aerobics tape with an old-school aesthetic. Her fans have bombarded her inbox and DMs with message after message asking her to make the tape, and that they would be willing to buy as many copies of it as necessary to make it worth the tbabe's time. With such a loving dedicated fanbase, who is she to deny them the sight of her juicy body moving around in revealing clothing to some of their favourite classic beats. The mere thought of those hips shaking and booty bouncing in short neon shorts and a thong bodysuit, can turn even the most disciplined of men into a sex-crazed fiend.
Acolyte cannot resist pounding trans redhead Evie Envy
The shemale's right-hand man (or at least he wishes he could be her right hand), is none other than the muscular Skyy Knox. His desire for the star's curves is a secret to no one, except Evie herself. However, his lust feels a little too overwhelming today. From the second he laid eyes on her this morning, he has not been able turn his gaze away from how hard the fabric was gripping her nice ass and budding tits. The shoot has finally begun, but Skyy cannot stop messing around, trans redhead Evie Envy has completely taken over his thoughts, and cock. The TS eventually notices the uncontrollable coomer doing everything he can to grab her attention. And luckily for him, she has not problem granting his lascivious wish. With a development that feels straight out of a dream, Skyy starts drilling his idol's butthole until they both cum.