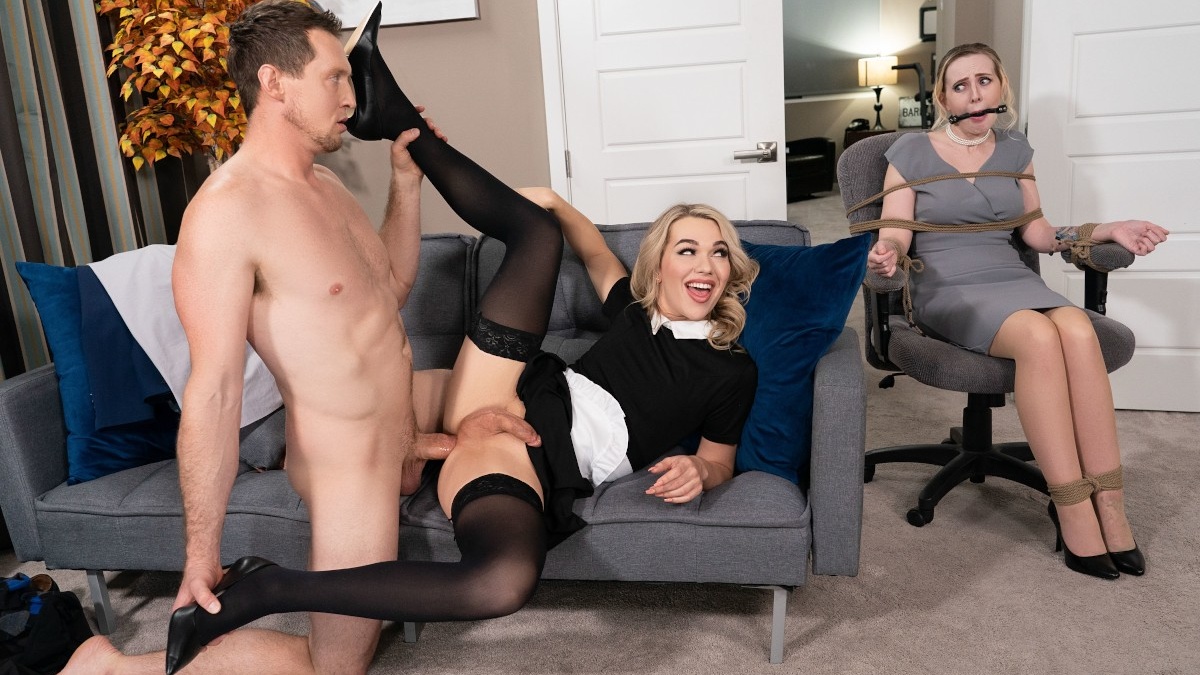 Breathtaking trans maid Emma Rose is a stunning blonde beauty with sweet shecock and a tight fine booty. She has spent the last couple of years working for this lovely couple. Having quickly become BFFs with the wife, and being regularly used as the husband's personal fucktoy whenever his partner isn't around the house, Emma has been really loving every detail about her job. Today is just another day of serving the boss before getting to all the housework. The mesmerising tbabe is bent over in her sizzling maid outfit, complete with sexy black stockings and high heels. And her employer could not wish for a better view in the whole wide world. As he looks down at her delicious booty jiggling with every move of his hips. While her tight butthole grips his raw cock, he is escorted into a paradise of pure pleasure.
Pounding trans maid Emma Rose while his tied-up cuckquean wife watches
This time is different from all the other fun sexual encounters the husband has had with his maid. Because this time, he missed up and did not account for his lover coming home early today. And so he finds himself cornered, as he sees his wife approaching the living room, completely oblivious to the fact that the love of her life is balls-deep inside their gorgeous trans maid Emma Rose. He tries to act all sneaky and talk his way out of being caught, but he couldn't be more delusional. While the angry wife yells at her cheating hubby and the maid whom she thought was her friend, Emma comes up with the plan. One that involves tying up the bitchy woman and making her watch as she rides her man's shaft. And perhaps they'll both cum on her face at the end to make sure she learns her lesson.