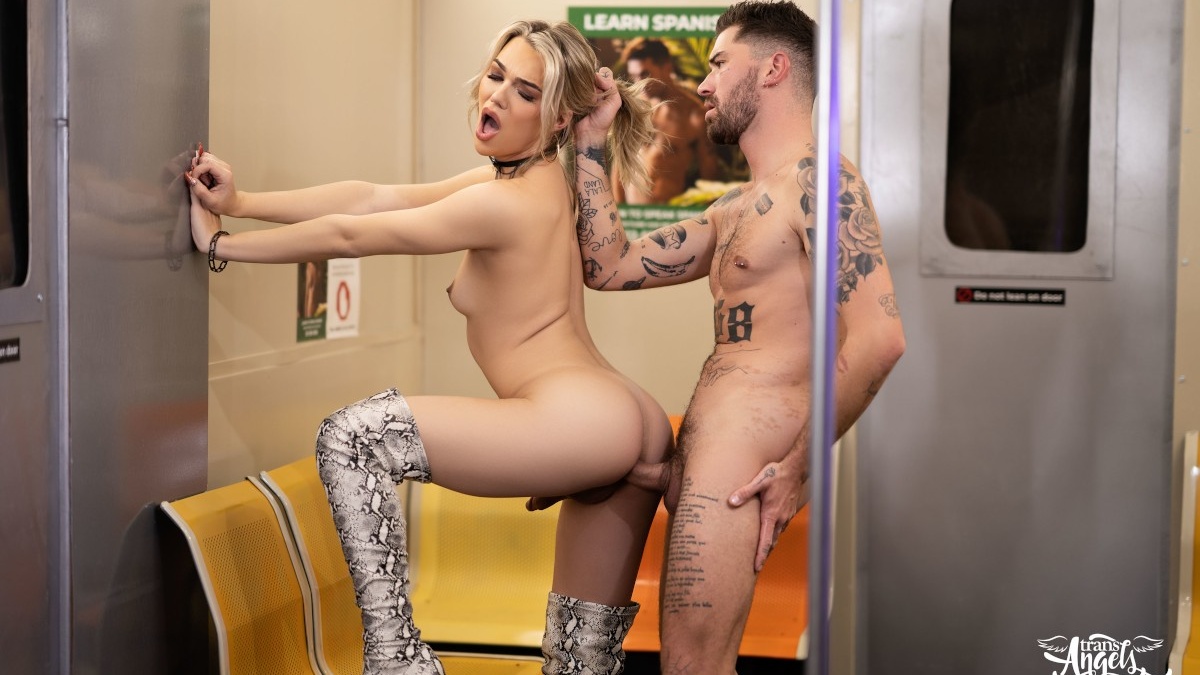 Talking on the phone with his mate while taking the subway home, this tattooed stud has no idea that he's sitting right next to stunning trans exhibitionist Emma Rose. The blonde bombshell has come prepared for a moment like this. One where she finds herself so horny for a complete stranger but with no easy way to approach them. Wearing a revealing black coat with sexy knee-high boot heels, certainly no one around her could guess that beneath her outfit lies only a slutty pair of black lingerie. A sheer bra that hides her small breasts, and hot panties that wrap her tight ass and lovely shecock. When the power suddenly goes out, the bloke we just mentioned hangs up the phone and turns on his flash light to try and make sense of what is happening around him. Right next to him however, awaits a very nice meaty surprise.
Guy pounds trans exhibitionist Emma Rose after she flashes him
When the unsuspecting dude turns his head to the right, he finds a delicious meat stick swinging in the air, waiting for him to touch it. He has been blessed to be chosen as the latest target of trans exhibitionist Emma Rose. Trying to put her coat back on after flashing him, the man simply refuses to let the gorgeous tbabe go back to her seat without tasting her pork sword. Starting off by working it with her mouth, Emma's dick quickly becomes erect and pulsating with pleasure. She takes off her coat and starts face fucking the bloke, before dropping her panties to the floor and bending over. And so the stranger takes the hint, and whips out his big rod to start ramming her back door. Enjoying each other's naked bodies in every position they can think of, their encounter ends with cum filling the TS knockout's mouth.