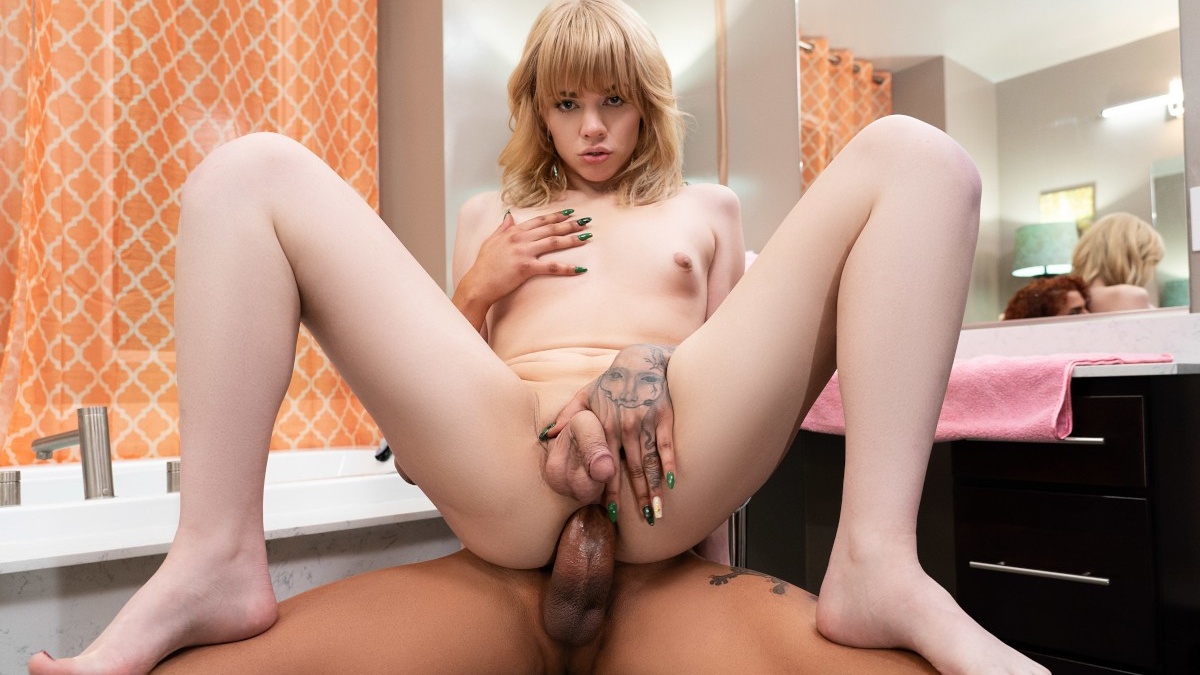 Playful and cute as ever, small tits trap Kate Zoha does her makeup in front of the bathroom mirror. Wearing a navy blue crop-top and jeans, she looks like all of your trans-girl-next-door dreams come true. Unfortunately for any potential suitors, the sweet blonde tgirl is already taken. And with charismatic Latina shemale Rubi Maxim being her partner, she is without a doubt satisfied with her relationship. Her GF walks in and notices that Kate is looking a bit tense. Lovingly massaging her shoulders, she asks if anything is wrong. The adorable TS then explains that she's simply had a stressful week. Being the caring lover that she is, Rubi offers to prepare a warm bath for her worn-out girlfriend. And Kate most certainly appreciates the gesture. But judging by the way the hung Latina keeps staring at her ass, it is fair to assume she has some ulterior motives.
Shemale Rubi Maxim pounds the stress away from small tits trap Kate Zoha
The young trans girl most certainly does not mind her lover's lascivious stares. And as soon as she notices a butt plug in the drawer next to her, all sorts of lewd ideas start floating in her head. She then starts to strip down, discreetly teasing Rubi as she notices that she's biting her lips while she devours Kate's little tushy with her eyes. The redhead tranny then dominantly approaches her GF, squeezing her cheeks as she closes in for a hot kiss. Aroused out of her mind, small tits trap Kate Zoha turns around and inserts the plug in her bum before hopping inside the tub. A few minutes later, Rubi returns and sits on the side of the tub. After getting her thick rod properly lubed by Kate's mouth, she proceeds to eat and pounds her ass. Finishing off by busting a nut inside her mouth.