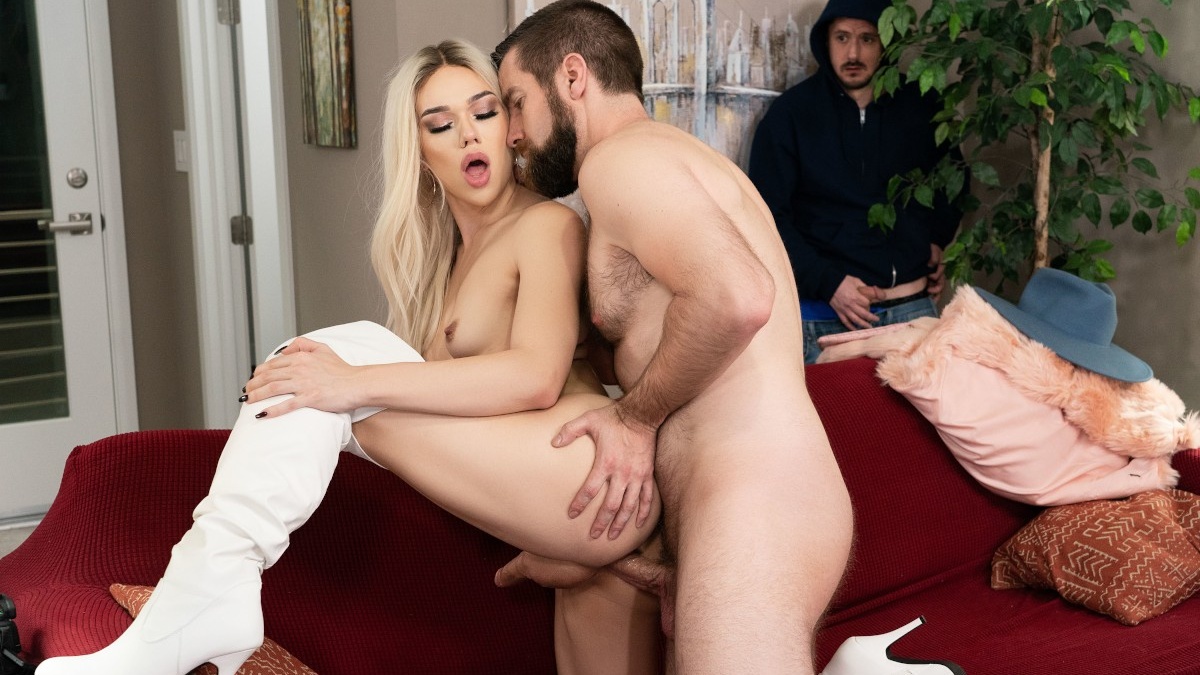 It seems shemale pornstar Emma Rose can never catch break. Ever since her meteoric rise into smutty stardom, she has been haunted by paparazzi lenses everywhere she goes. What made the transition even more difficult is how sudden the change in lifestyle was for the blonde tbabe. It feels like she went from a regular wannabe cumslut to a cock-magnet superstar overnight. She definitely isn't complaining, but adjusting to her new world is taking a lot longer than she thought it would. Compounding Emma's dilemma is that she very recently moved in with her long-time boyfriend whom she really likes. And the last thing she would want is for this life-altering burst in popularity to affect their relationship. Having her entire world shaken in a way she never expected, and with everything happening around her, the young and sexy TS finds herself as anxious as she is ecstatic.
Shamelessly pounding shemale pornstar Emma Rose in front of a voyeur paparazzo
For Emma, today is just another long day of dodging the cameras of nosy tabloid photographers. Having no boundaries, and never hesitant to do whatever it takes to get an exclusive scoop, a cute tgirl really cannot lower her guard around these piranhas. However, she has finally made it home, and she cannot wait to have hours of passionate bareback anal sex with her man. There is only one issue though, this one annoying paparazzo has been waiting in front of her house the entire day, and he's not leaving without some good photos to sell. Careless to the stalker, the trans babe enters her home and immediately starts fucking her lover. The photographer outside notices what the two are doing, and decides to leave his camera behind. Not everyday do you get the chance to watch shemale pornstar Emma Rose getting barebacked right in front of you.