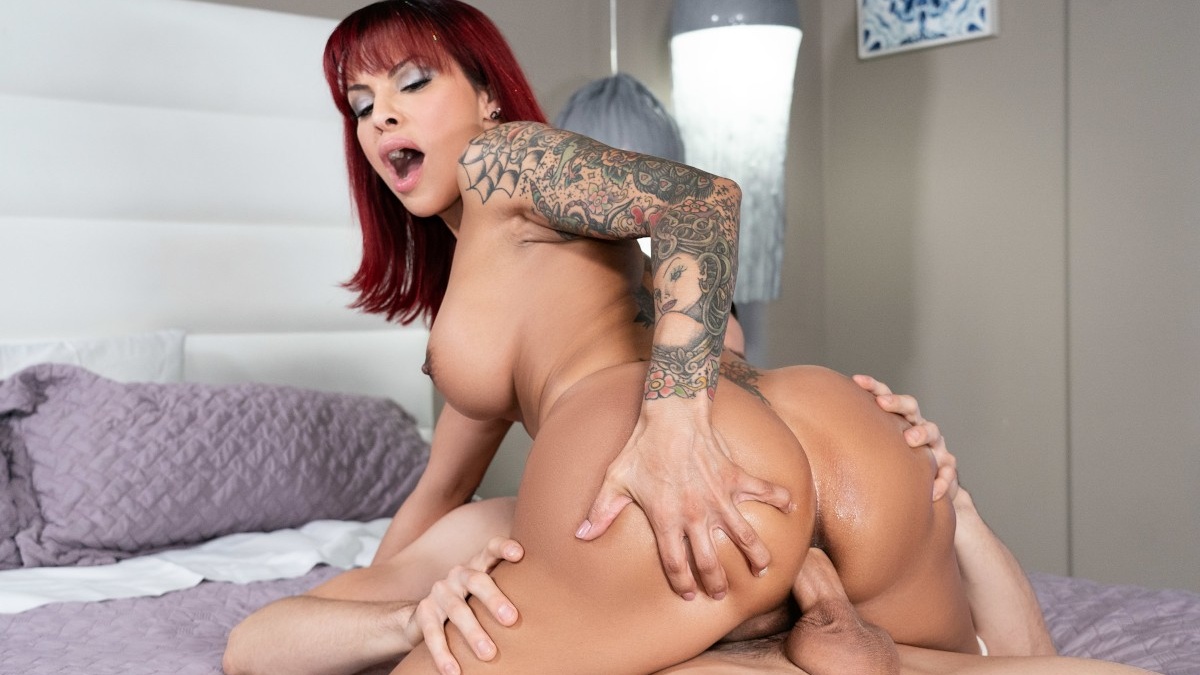 It is not hard for her fiancé to tell that shemale MILF Foxxy is feeling quite down. The busty redheaded TS was supposed to be all dressed by now for her day job, even though she has been working from home like so many other people under lockdown. But all she has on when her man walks in, aside from her underwear, is an unbuttoned shirt and a pair of thigh-high socks. He can easily tell that she's upset as she lies there on the bed looking all gloomy and unmotivated. And it doesn't take a genius to guess what the reason for her depression is. After all, the couple had to cancel major plans that they had been very excited for this month because of quarantine. The biggest loss being their very own wedding, which they have been planning for for months. As well as Foxxy's sister's birthday.
A cock up her ass always makes shemale MILF Foxxy feel better
The transsexual beauty has never felt more hopeless or pessimistic about the future. She truly feels that things will never get better. The world she lives dealt her a low blow and everything can only get worse from here. But the guy she was planning to swear her eternal love and commitment to in a few weeks has a different view on things. He thinks that she will better off living for the present instead of constantly worrying about the future. And since he knows his fiancée better than anyone, he has in his pants just what she needs to turn that frown upside down. Shemale MILF Foxxy thus enjoys trading blowjobs with her lover. And moans the sadness away as she gets her ass railed raw. The couple's fuck session ends with passionate kissing while cum covers the satisfied trans lady's mature body.