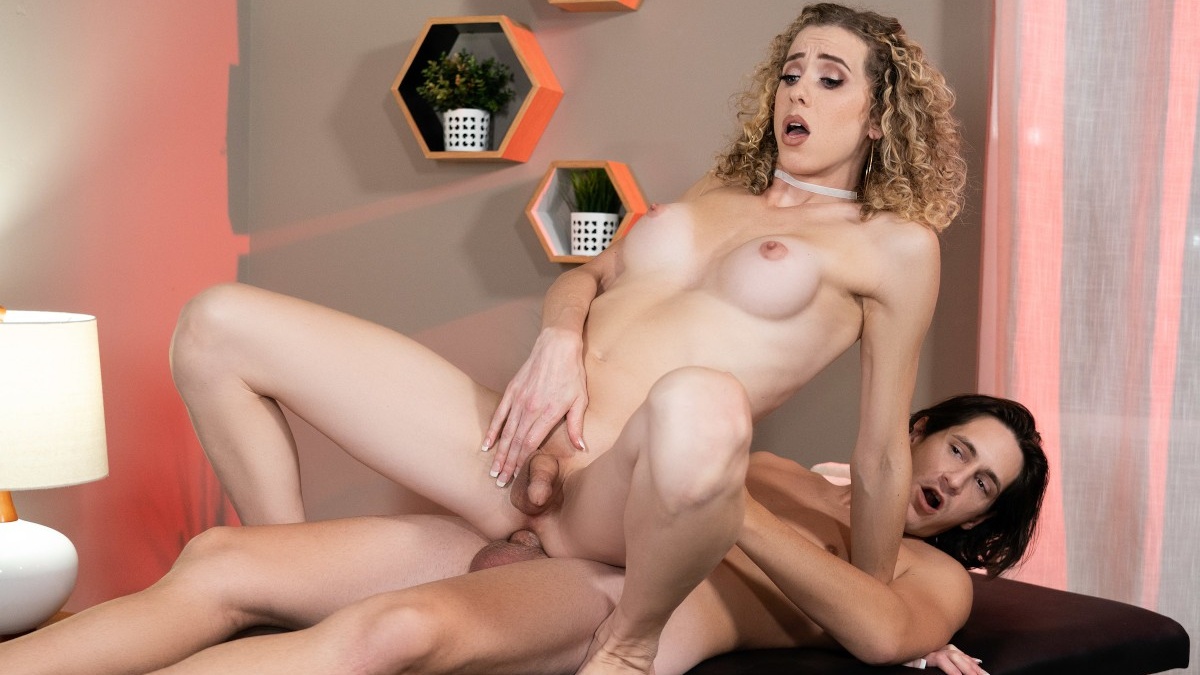 Well-known and extremely talented shemale masseuse Lily Demure is so good at what she does, that her services are on-demand throughout the entire day, every single day at work. Her loving hands and smooth, experienced touch make every rubdown she gives a lifelong memory for any client fortunate enough to fall under her care. It is now late at night, way past the parlour's closing time, and the sexy tbabe is busy counting the fruits of her hard labour, when suddenly walks in a young man, looking nervous and anxious. His name is Tony Orlando. And despite the blonde beauty making it clear to him that he should return during working hours, he remains adamant about his desperate need for her angelic touch, to the point where he's practically begging for it. Tenderhearted as she's always been, Lily obliges the awkward bloke by accepting his request.
A special rubdown courtesy of shemale masseuse Lily Demure
Hoping that her unusual client will calm his nerves a bit once he's alone, the trans siren asks him to wait for her in the massage room while she prepares herself. When she returns, she lasciviously helps him take off his jacket before bending over and shoving his face between her firm ass cheeks. Shemale masseuse Lily Demure then strips down and trades oral sex with a mesmerised Tony, who makes sure to savour every inch of her tight body. Now that the two of them are well-introduced, it is time for her to show this chap why her services are so highly praised. The TS belle thus spreads her legs wide to accept her partner's love. Almost zoning out in disbelief of the dreamlike scenario he's in, Tony snaps out of it and shoves his dick deep inside his goddess's asshole, before filling her mouth with cum.