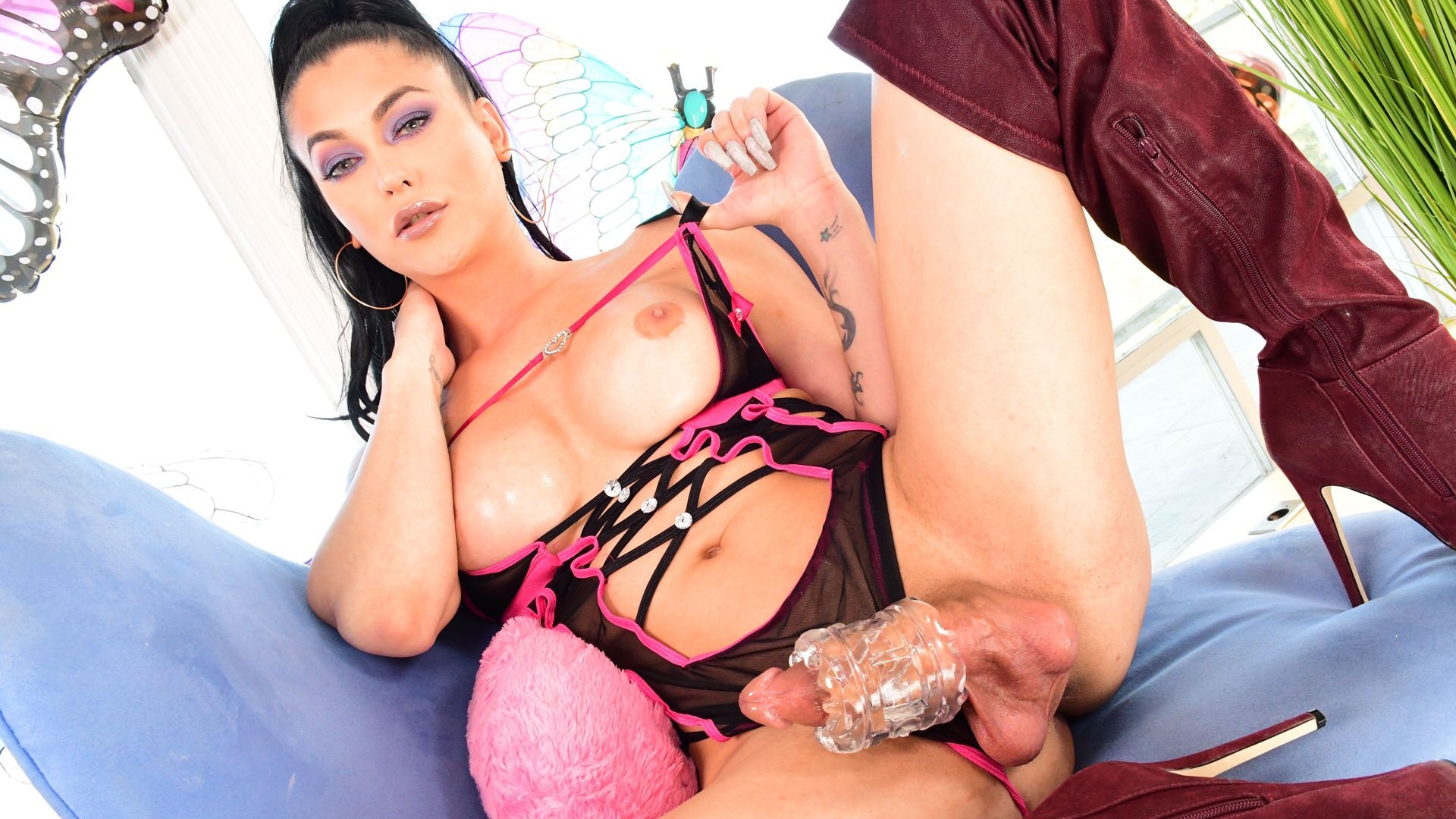 Sultry Shemale Domino Presley Solo masturbation scene begins with her seductively talking to us, while she fondles her spectacular body. Domino is a drop-dead gorgeous, raven-haired, transsexual siren, with runway model looks, hypnotic eyes, and a mouth-watering, rigid rod. Domino sensually releases her firm, round breasts, and rock-hard, beefy, tongue depressor, from her erotic attire. She bewitches us, to obey her every command, with her beguiling eyes, enthralling voice, and spellbinding dick. Once, fully aroused, Domino drenches her magnificent, steely shaft in oil, as she sensually strokes it. As a result, the light glistens magically, off of her sublime prick, like a sparkling beacon of lust. Additionally, she taunts us, with her suggestive banter, while stroking her potent plonker, making us beg for it. Next, she slowly and lustfully slides her erect dick into a clear, silicon jack-off sleeve to enhance her masturbatory pleasure.
Oiled up, shemale Domino Presley solo jack-off scene sizzles
With her sitting back in a chair, wearing knee-high boots, this Shemale Domino Presley Solo scene is truly awe-inspiring. That being the case, Domino's majestic, rock-hard, wonder whang is so hard that you could break bricks with it. Subsequently, she teases her sublime cock with the sleeve, and in so doing, she teases us as well. Furthermore, this astonishing enchantress is somehow able to transport us into the sizzling scene with her. As a result, we feel the heat of her incendiary passions, as she sucks us into her vortex of lust. After removing the gaping sleeve, with a vice-like grip, she frantically jerks off her exquisite cock, with fiery fervor. Finally, a volcanic, jaw-dropping orgasm burst forth, ejecting a never-ending surge of her creamy nectar, right at us. Her monsoon of cum is all over the chair, the floor, and herself, for a glorious gooey ending.