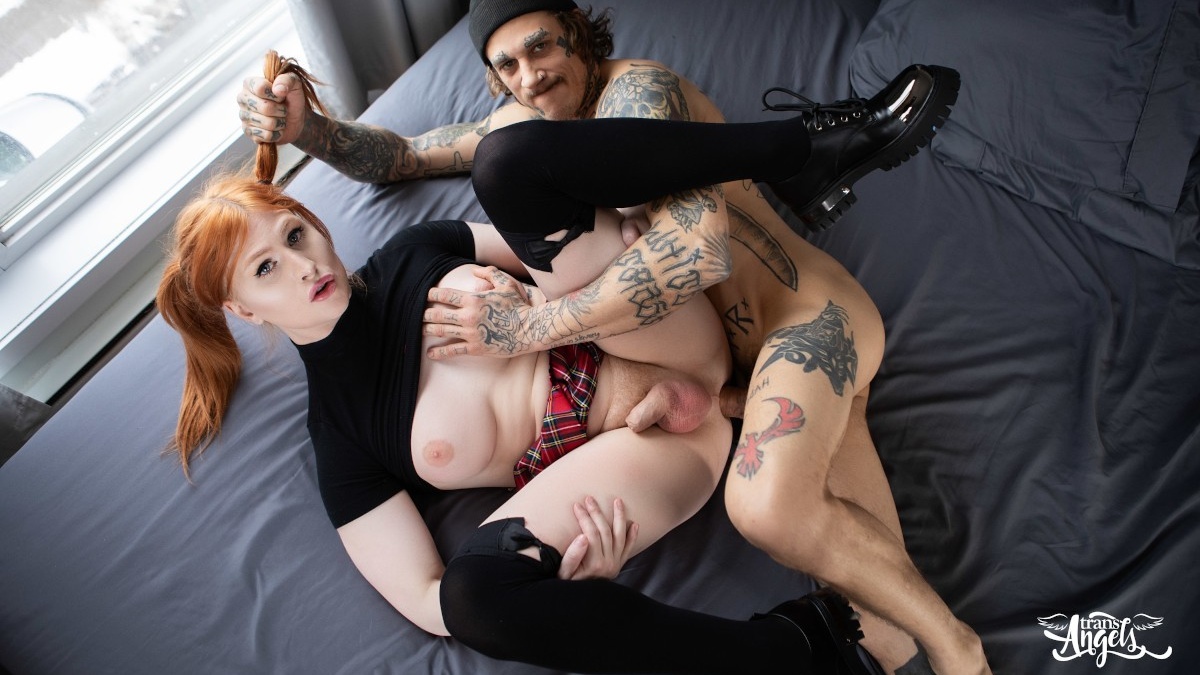 Having been obsessed with a big-dicked pornstar for a very long time, redhead TS Evie Envy makes a dangerous decision. She wants to break into her idol's flat, and stroke her shecock while sniffing his underwear. To make everything even riskier, she will capture it all on tape too! After doing lots of creepy research, and stalking the man multiple times as he's heading home, Evie finally pinpointed where he lives, down to his flat number. But how will she know when to strike? Sure she knows that what she's doing is crazy, but that doesn't mean the conniving TS wants to get caught doing it! And so, after a few more nights of not-so-subtle stalking, she manages to figure out his daily schedule. Armed with all of the information her relentless scouting has yielded, as well as her smartphone, the ginger shemale sets out to the soon-to-be crime scene.
Pornstar catches redhead TS Evie Envy and reams her tight asshole
Wearing a sexy schoolgirl outfit and tying her hair into two cute pigtails, the reckless tgirl starts to carry out her carefully-crafted plan. The most important detail that she wants to make sure she gets right, is documenting every second on video. So she can go back and jerk off to it whenever she feels horny. Which for redhead TS Evie Envy, is practically all day, every day. Finding the door locked, the mischievous nympho is not remotely discouraged. She quickly pulls out a hair pin and uses it to break in within seconds. Now that she's inside, it's time to unleash her inner slut like never before. Thus she begins sniffing the pornstar's underwear while playing with herself. Catching her red-handed, the inked stud decides the best punishment for this lovely intruder, is to pound her ass raw like the good fuckpig she is.