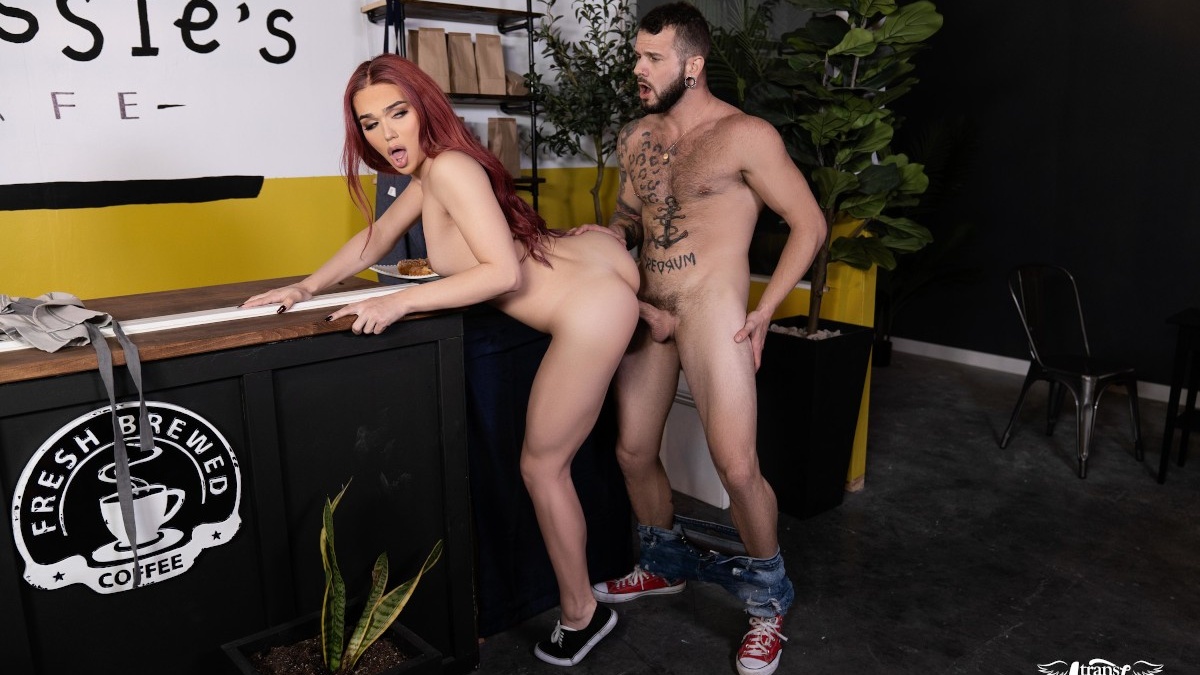 Showing up to her part-time job as a barista, redhead TS Emma Rose is feeling way too horny today, and she has no idea why. Wearing a cute shirt with sexy jean shorts, she's eyeing every hunky customer who comes in, trying to find a suitable target to fill her wanton butthole. A bearded chap then makes his way to the counter, asking for an espresso to start his busy day. The hot shemale gladly serves him his beverage at a moment's notice. And it is clear to everyone except the bloke just how lustful her ogles at him are. Unconcerned, or rather oblivious, he grabs his drink and takes a seat on a vacant table. But Emma is not satisfied with this outcome. She wanted him to understand just how turned-on she is, and how badly she wants him to rail her tight trans ass.
A public drilling for redhead TS Emma Rose
Frustrated but not deterred, the daring barista walks in front of the counter and pulls her apron to the side. Revealing that her shorts have had a convenient hole cut into them which reveals her mouthwatering girldick. Wanting to push her exhibitionism even further, redhead TS Emma Rose then takes off her shorts altogether. And to no one's surprise, the naughty transgender girl is not wearing any underwear. Thus she begins stroking her shaft right in the middle of the crowded café. The rush of acting like a shameless slut as she pleasures herself in public has completely erased the last of hint of hesitation in her mind. Approaching to tell the barista about the dirty spoon she has handed him, a patron is shocked to find her bare butt hanging out once she bends over. And he quickly decides to help the tbabe sate her desires.