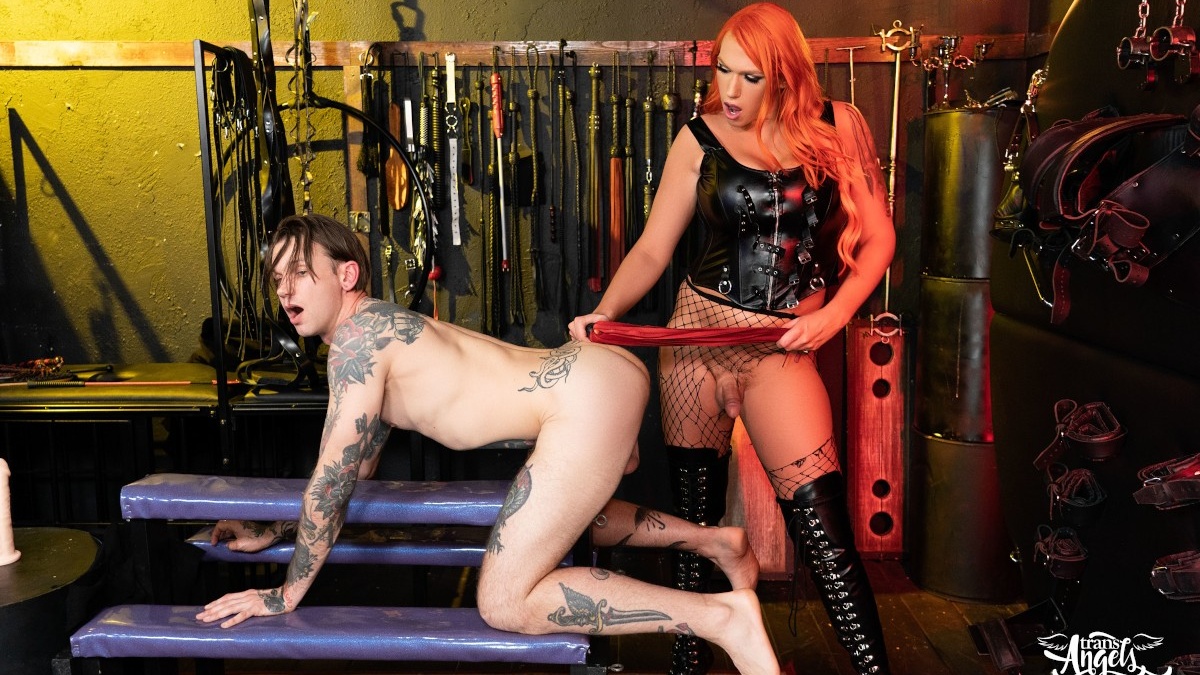 Not knowing what he is about to get himself into, this nosy bloke approaches redhead TS dominatrix Aspen Brooks. He saw her taking some naughty selfies in her cute schoolgirls outfit. And thought he may have a chance with her if he politely proposed to help her out. He even went as far as to lie and say he's "somewhat of a photographer" himself. When his experience doesn't go past taking a couple of crappy photos of his reflection in the mirror. His gamble paid off however, as the cute tgirl was so impressed by the pictures her snapped of her, that she invited him back to her place to continue the photo shoot there, with the promise of even lewder outfits and poses. And how can he refuse such a wonderful offer? Unbeknownst to the horny chap, this shemale is only looking to lead him into her BDSM den.
Becoming a slave to redhead TS dominatrix Aspen Brooks
Having arrived at a dimly-lit room filled to the brim with all sorts of kinky tools and toys. The bloke starts to wonder whether he made the right decision by following the innocent-looking cosplayer back to her place. He doesn't have to wonder for long however, as he is suddenly introduced to redhead TS dominatrix Aspen Brooks. She's finally gotten herself a new slave. She never thought it would be so easy, but with how thirsty for shecock the guy was, he was basically asking for it. And so, the ginger tranny grabs her subject's head, pressing against her pecker, before pulling the thing out. After satisfying the mistress he just met with his mouth, it is time to become her plaything. And so, Aspen proceeds to whip and spank the submissive man. She then plows his bunghole bareback, and leaves him with a creampie inside his ass.