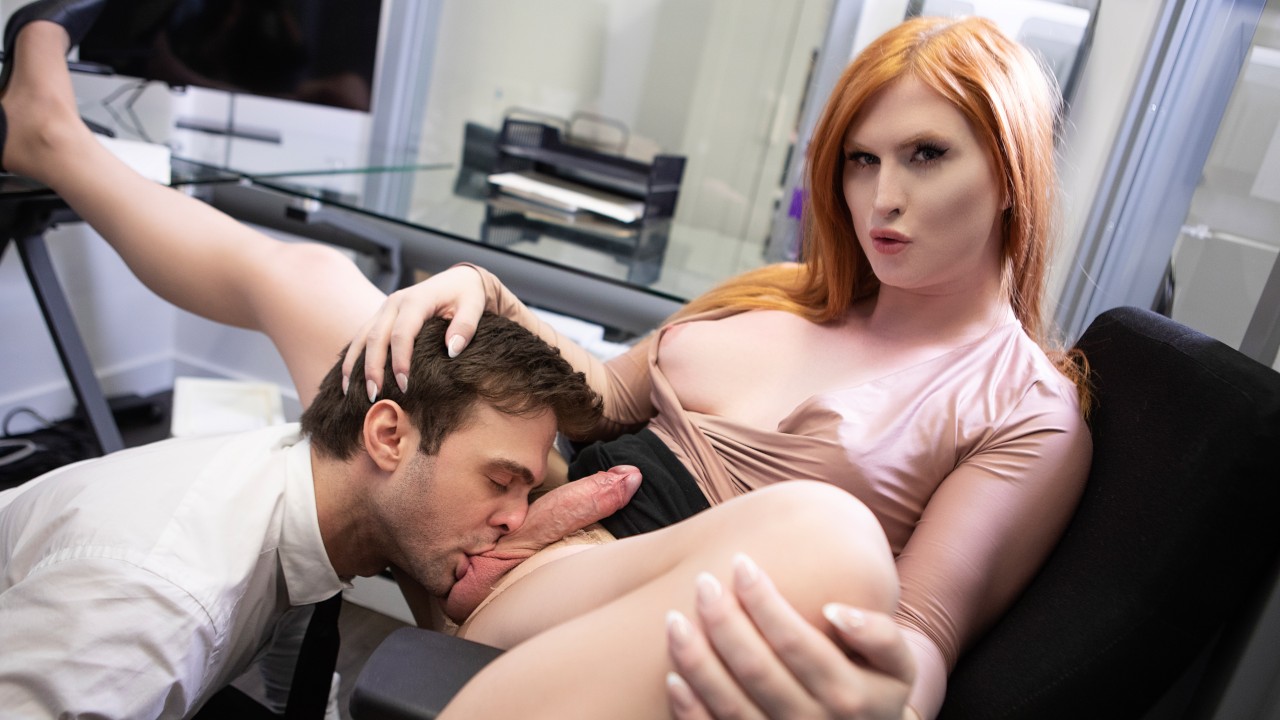 Redhead Tranny Evie Envy is hard at work, when she notices her irritating boss, played by Gabriel Clark, on the security monitor, jacking off. Accordingly, Evie decides to do the same. She enthusiastically jacks off her rigid rod at her desk. However, before she can cum, her boss burst in, with a huge stack of case files, further adding to, her already overburdened work load. Furthering her harassment, the first file that she opens, has a photocopy of his dick. The annoyed look on her face, results in his laughing hysterically, as he leaves her office. Fed up with his sophomoric harassment, she decides to turn the tables on him. Finding him photocopying his dick, she assertively bends him over the copier. Then, she barbarically slams her stony, pork sword into his ass. Although, she demands that he show her some respect, it only serves to fuel his perverse antics.
Seductive Redhead Tranny Evie Envy Always Finish On Top
When Evie returns to her desk, she is pleasantly surprised. She discovers her boss hiding under it, relishing sucking her savory sausage. Subsequently, beguiling, redhead tranny Evie Envy, proves that she sucks cock even better than he does. After that, she works him into a sexual frenzy, ferociously fucking her ass. Once he is in an intoxicated, dick-drunk delirium, she convinces him to go into the hallway naked. They watch each other jacking off, from opposite sides of the office window, before cumming all over it. Finally, he realizes that Evie has locked him out of the office. After he demands that she unlock the door, Evie sarcastically replies that she is too busy, due to all of the extra work that he gave her. Smiling triumphantly, she returns to her office with the sound of her boss's begging filling the room like music to her ears.